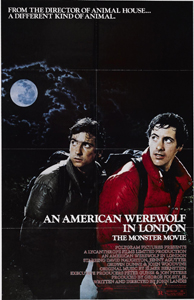 It may be nearing the end of February but Grimm Up North have something cool for horror fans up their screening sleeves.
On Thursday 27th February 2014, Grimm Up North will be hosting a screening of horror classic, AN AMERICAN WEREWOLF IN LONDON at The Dancehouse, Manchester from 8pm. The film will be accompanied by the screening of a short film. Get your tickets here
American students David Kessler (David Naughton) and Jack Goodman (Griffin Dunne) are spending their holidays backpacking around England. Seeking shelter from a storm at unwelcoming Yorkshire inn 'The Slaughtered Lamb', the pair are soon spooked by the unwelcoming locals, who nonetheless warn them not to stray from the road. Sure enough, the duo become lost on the moors and are attacked by a savage animal. Jack is killed, but when David wakes in a London hospital weeks later he is told that his attacker was in fact a rampaging madman. Already shocked and confused, David is horrified to receive a visit from the rotting corpse of an undead Jack, who informs him that the creature which attacked them was in fact a werewolf. Unless David kills himself he will fall prey to the monster's curse at the next full moon, and transform into a savage killer…
The day after, Friday 28th February 2014, Gorilla in Manchester will be the venue of choice for Grimm's screening of Dario Argento's Tenebrae, which ties in with the live gig of Claudio Simonetti's Goblin two days earlier at the same venue on Wednesday 26th February 2014. The screening Tenebrae kicks off at 7pm. Find more details of the screening and booking tickets here.
A notorious horror classic returns in all its depraved glory. This infamous video nasty updated the classic Giallo blueprint for the gorified 80s, courting controversy and drenching the viewer in crimson arterial spray. Claudio Simonetti's Goblin masterful soundtracking of the film is "…so fused to the fabric of the picture that Tenebrae might be termed…a giallo musicale; that is, a giallo in which the soundtrack transcends mere accompaniment to occupy the same plane as the action and characters.