John Dies at the End (2012)
Directed by: Don Coscarelli
Written by: David Wong
Starring: Chase Williamson, Clancy Brown, Paul Giamatti, Rob Mayes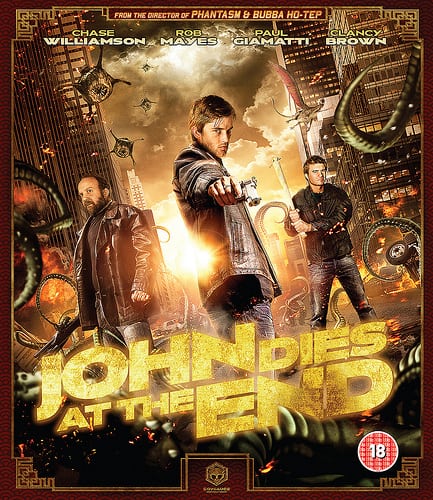 Running Time: 99 mins
Certification: 15
Reviewer: David Gillespie – Official HCF Artist
Considering Don Coscarelli has not had a full length movie release since Bubba Ho-Tep in 2002, it is no understatement to declare that the release of his latest opus is something of an event.  I can't hide my admiration for Mr Coscarelli as he brought to the big screen the most twisted, surreal, frightening and original horror film of all time in Phantasm (1979). The story focussed on a galactic overlord that visits earth to dig up our dead, shrink and reanimate their bodies and send them to other ancient dimensions to work as slaves. In his latest opus called John Dies at the End he delivers another gloriously depraved sci-fi horror with a welcome return of latex gore makeup blended in with the CGI effects. Coscarelli thrives on creating a huge premise with the flimsiest of budgets and his latest project is no exception.
Dave Wong (Chase Williamson) and his titular sidekick, John (Rob Mayas) become reluctant protectors of mankind after ingesting a mind bending and deadly drug called Soy Sauce at a rock concert. The side effects include headaches, amplified senses and the ability to see and be attacked by ghostly/ demonic apparitions while jumping back and forth through time and dimensions. Dave and John store a vast array of monster slaying tools for the many manifestations that come knocking or bursting down their door. These include a propane fuelled flamethrower, sawn off shotgun, axes and best of all, a baseball bat covered in nails with strips of the old testament stuck to it.
When Dave discovers that mankind is under threat from a 'locust-like' parasite linked to a demon called Korrok, both he, John, his one handed girlfriend, her pet dog called Bark Lee and a celebrity 'kick-ass' psychic Marconi (Clancy Brown) join forces to destroy this evil mastermind.
Reviewing John Dies at the End after one sitting is perhaps an impossible task. There are about a dozen plots and subplots being thrown at you within the first 15 minutes. Coscarelli attempts to tie all these plot threads together as Dave uncovers his story to a local reporter called Arnie played by the wonderful, Paul Giamatti. However this only succeeds in confusing matters even further.
Newcomers Chase Williamson and Rob Mayes are likeable and funny as the two slacker heroes. Their chemistry and timing is spot on as they step up against all manner of creatures, including zombies, shape changing ghouls, ghosts, parasitic demons, topless cult members and a large door 'knob'. There are also welcome cameos from Angus Scrimm as an extremely sinister priest and Glynn Turman as a shotgun-wielding detective.
Although confusing, part of the movie's charm is that there is no attempt at pacing or logical direction. John Dies at the End is a series of hilarious ideas and violent set pieces moulded into 99 minutes that fly by. Perhaps a weaker movie than Coscarelli's previous gems, Bubba Ho-Tep and Phantasm, John Dies at the End remains a ripping yarn with flashes of brilliance and is a dead cert for cult classic status.
Rating:
The Blu-ray Edition of John Dies At The End comes with some really cool extras such as feature length commentary with the cast and crew, deleted scenes, Getting Sauced: The Making of JDATH, Creature Corps: The Effects of Soy Sauce, some interesting casting sessions with the actors Chase Williamson and Rob Hayes, Fangoria interview with Paul Giamatti and the trailer. The DVD has none of these special features, so if you like your discs loaded with extras, Blu-ray is the better option.