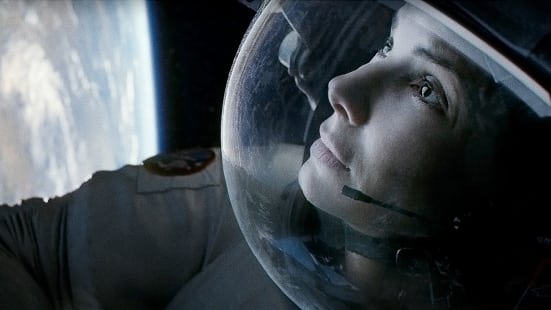 I have said how stunned I am at Alfonso Cuaron's Gravity over and over, and I was so pleased to see the masterpiece pick up so many BAFTA awards (including Outstanding British Film, Best Director and Cinematography). With the Oscars just over a week away, I expect Gravity will score big at that awards ceremony too, and as we build up to the Oscars, a little taste of the DVD & Blu-ray special features have been released.
No doubt the DVD & Blu-ray will be packed with special features showing just how Cuaron pulled off such a visual treat, but for now we have a new featurette below showing just how the CGI, real filming and other creative brilliance were put together to deliver such an amazing film. Check out the video below.
Gravity arrives in the UK on DVD & Blu-ray on March 3rd.
Written and directed by Alfonso Cuaron and co-written by Jonas Cuaron, Gravity stars Sandra Bullock and George Clooney, with Basher Savage and Eric Michels providing the voices of the Space Station Captain and NASA.
Synopsis:
Sandra Bullock plays Dr. Ryan Stone, a brilliant medical engineer on her first shuttle mission, with veteran astronaut Matt Kowalsky (George Clooney) in command of his last flight before retiring. But on a seemingly routine spacewalk, disaster strikes. The shuttle is destroyed, leaving Stone and Kowalsky completely alone–tethered to nothing but each other and spiraling out into the blackness. The deafening silence tells them they have lost any link to Earth…and any chance for rescue. As fear turns to panic, every gulp of air eats away at what little oxygen is left. But the only way home may be to go further out into the terrifying expanse of space.