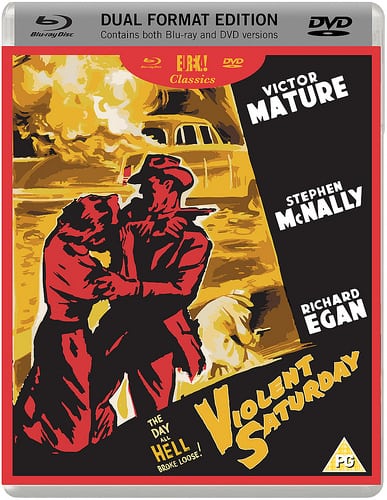 Eureka! Entertainment have announced the release of VIOLENT SATURDAY, a key but overlooked 1950s criss-crossed heist tale which influenced Kubrick's The Killing and Tarantino's Reservoir Dogs.  Directed by Richard Fleischer (The Boston Strangler and 10 Rillington Place) this first ever home video release will include new special features, including an interview with fan William Friedkin (The French Connection, To Live and Die in LA).
VIOLENT SATURDAY will be released in a stunning Blu-ray presentation as part of a Dual Format (Blu-ray & DVD) edition on 21st April 2014.
A coolly riveting crime saga from director Richard Fleischer (The Boston Strangler, Soylent Green), Violent Saturday tells a brutal noir tale against blazing, sun-drenched Arizona landscapes.
Three criminals arrive in the small mining town of Bradenville, planning on robbing its only bank. But as they start scouting the area and gathering the information they need, the lives of others in the town threaten to get mixed up in their scheme, in a tangle that could lead to disastrous consequences.
Featuring the iconic Victor Mature and Lee Marvin, and with Ernest Borgnine in one of his most unforgettable roles, Violent Saturday is a fascinating gem of Hollywood storytelling, complete with memorably vicious and idiosyncratic details, brilliant performances, and stunning Cinemascope imagery.
Violent Saturday is based on a novel by William L. Heath.
SPECIAL FEATURES WILL INCLUDE:
– Stunning high-definition master, with 4.0 and 2.0 soundtracks, on both Blu-ray and DVD
– A new video examination of the making of the film by Nicolas Saada
– A video appreciation by director William Friedkin