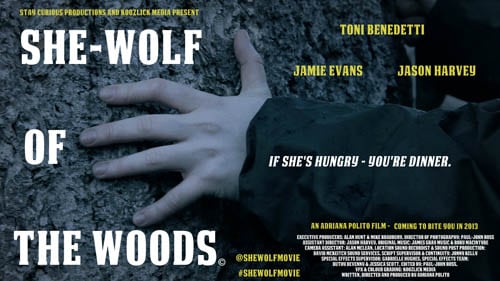 Stay Curious Productions and Koozlick Media have announced that their short horror film, SHE-WOLF OF THE WOODS (which Bat recently reviewed) picked up the award for Best International Short Film at Thursday's RIP Horror Film Festival Awards Ceremony at The Frida Cinema in Santa Ana, California.
The festival, created and headed by L.j. Rivera, seeks to bring the best of classic and contemporary Independent Horror films to Los Angeles, showcasing local, national and international filmmaking talent.
SHE-WOLF OF THE WOODS' nomination was announced last month, and the film screened at the second half of the festival, which took place on Thursday March 27th, before picking up the title at the awards ceremony later that night. Other winners included Sig Haig, for the American Awards' Lifetime Achievement Award, Jen & Sylvia Soska, for the American Awards' Rising Star Award and Jessica Cameron, who won RIP Best Feature for TRUTH OR DARE.

SHE-WOLF OF THE WOODS was directed by Adriana Polito, who also wrote and produced the film, but she is very quick to share the praise. "A small cast and crew of 13 people worked incredibly hard over 4 days to help make this film come to life, but the truth is that the investment of time, energy, talent and commitment – from these people and countless other individuals and community groups – actually goes well beyond that timeframe. I was always going to work hard on this, it's a story I wanted to tell, but I'll always be very grateful for all the people who brought their skills and their talent to the table so that the story could become a reality. Winning this award is a lovely thing for all of us."
SHE-WOLF OF THE WOODS takes a look at the ritualistic aspects of a forest ranger slash she-wolf apprentice as she goes about her day-to-day business of entrapping men with her sexuality, bringing them home for the kill and then burning up all evidence of their existence. The film has already received some great reviews and feedback from the B-Movie and Horror community, also having screened at the B-Movie Celebration Film Festival in Chicago in October, and Adriana is glad that people seem to want more from it.
"This short film is really just a glimpse into a much wider world. Some of the characters we meet are there to introduce a sexy Euro-horror 70s sexploitation vibe. Imagine that world being invaded by an 80s slasher movie and set against the backdrop of a 90s Scottish Twin Peaks and that's exactly the kind of feature film I want to make. There has been a lot of encouragement to do so, so we're currently developing the feature-length script and pre-production budget in preparation for seeking out financial backing."
SHE-WOLF OF THE WOODS is currently still in consideration for other International festivals and as such is not yet available online, but you can catch the trailer below.