This weeks eShop arrivals come in the form of some GBA classics and monkey's balls. Or something along those lines.
Advance Wars (Nintendo) – Wii U Virtual Console – Game Boy Advance – £6.29
Enemy troops are amassing at your borders, so take command of ground, air and naval forces and repel the enemies' attacks across more than 100 battlefields. Advance Wars is the critically acclaimed combat simulation that made a big impact on Game Boy™ Advance; blending tactical turn-based strategy with satisfying, accessible gameplay. Lead your COs (Commanding Officers) to victory in Campaign Mode, or take turns against a friend (or foe!) in Versus Mode.
Metroid Fusion (Nintendo) – Wii U Virtual Console – Game Boy Advance – £6.29
While on a mission to the Metroids' home planet, bounty hunter Samus Aran is attacked by a deadly parasite. Cured by Metroid DNA, Samus is bestowed with unique new powers from her old adversary, but must face
a new enemy: the 'X' parasite. Metroid Fusion blends a captivating original story with intense platform action and exploration in the classic Metroid mould.  
Mario & Luigi Superstar Saga (Nintendo) – Wii U Virtual Console – Game Boy Advance – £6.29
The Mario Bros. team up in this hilarious action-packed role-playing game. When an evil witch steals Princess Peach's voice, Mario and Luigi must venture beyond the Mushroom Kingdom, joined by an unlikely ally: Bowser! Take control of both brothers as you explore the vast lands of the Beanbean Kingdom, encountering wacky characters and bizarre new enemies. Enjoy the deep story and brain-teasing puzzles of an RPG, and test your reflexes in battles by combining the Bros.' skills to pull off powerful new moves.
Super Monkey Ball 3D (SEGA) – Nintendo 3DS card/download – £14.99
Super Monkey Ball as you've never experienced before! Join AiAi and friends as you tilt and roll your way in to the world of 3D! Lose yourself in each vibrant world as you twist, turn and aim to collect every banana in the fastest time possible. Then play together with friends and be the first to cross the finish line in Monkey Race or get ready for a manic melee in Monkey Fight. Everyone's favourite monkeys are jumping out of the screen with excitement. Let yourself be completely immersed in the world of Super Monkey Ball like never before. Watch as your favourite monkeys truly come alive in front of your eyes. Are you ready to join the fun?!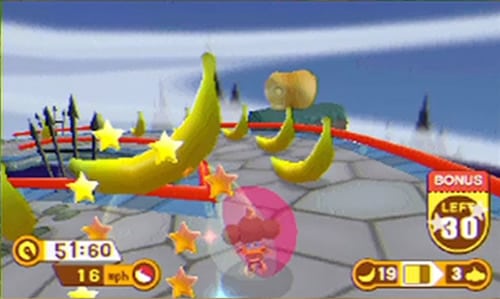 Bubble Pop World (Cypronia) – Nintendo 3DS download – £4.49
Bubble Pop World is a 3D match-three game in which you pop bubbles with the same colours. It is based on Augmented Reality technology, so the Nintendo 3DS™ AR Card is required. There are 120 puzzle and arcade levels to enjoy, or you can edit more of your own levels and share them with friends via QR Codes. In Arcade Mode you also travel around the world to discover undersea mini-games.
All of the above are available to buy from 03/04/14.
Further to the new releases, this week also sees a permanent drop in some eStore titles
Two Tribes Publishing, have a few games with permanent reductions from 03/04/14, with RUSH, Toki Tori and EDGE, all permanently dropped to £1.79 on the Wii U (EDGE is also available on the 3DS for the price). On the 3DS, Gamelion's Monster Shooter, will be available to purchase for only £3.20 from 04/04/14, permanently reduced by over half price.