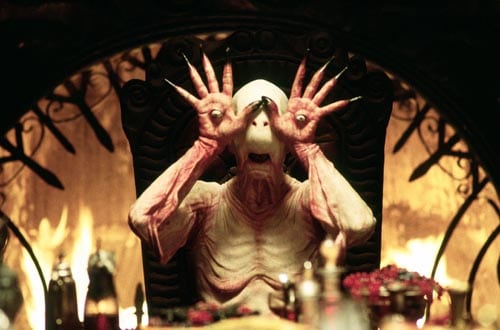 Horror Channel's film highlights for April include PAN'S LABYRINTH, the Network Premier of Guillermo del Toro's superlative companion piece to 'The Devil's Backbone', which received a 25-minute standing ovation when shown in competition at Cannes 2006. The genius 'Hellboy' director's extraordinarily rich and detailed visual style weaves entrancing metaphorical fantasy horror through political allegory with a stunning brilliance.
Plus there is a UK TV premiere for Michael J Gallagher's 2012 SMILEY and Network premieres for George Bowen's HEARSE and Tommy Lee Wallace's HALLOWEEN 111: SEASON OF THE WITCH
Saturday 5th April @ 21:00 – THE HEARSE (1980) *Network Premiere
Jane Hardy (Trish Van Devere) decides to stay the summer in the house her aunt left her when she died, to try and recoup from a bad divorce. Little does she know, her aunt practiced witchcraft and is still thought of very badly by the town's citizens. As soon as she moves in, she is haunted by an old black hearse and its creepy driver. Is she going insane or is she truly being menaced?
Saturday 12th April @ 22:50 – SMILEY (2012) *UK TV Premiere
After learning of an urban legend in which a demented serial killer named Smiley can be summoned through the Internet, mentally fragile Ashley (Caitlin Gerard) must decide whether she is losing her mind or becoming Smiley's next victim. This American slasher directed by Michael Gallagher, also stars Melanie Papalia, Keith David, Shane Dawson, Andrew James Allen, Toby Turner, and Liza Weil
Saturday 19th April @ 21:00 – PAN'S LABYRINTH (2006) *Network Premiere
Set in 1944, at the end of the Spanish Civil War, Carmen (Ariadna Gil) moves with her young daughter Ofelia (Ivana Baquero) into the country after remarrying brutal Captain Vidal (Sergi Lopez). Finding her harsh new life hard to bear, Ofelia seeks refuge in a mysterious maze next to the house. There a magical faun (Hellboy's Doug Jones) reveals she is the long lost princess of an enchanted kingdom and to discover the truth about herself she must accomplish three perilous tasks nothing has prepared her to face. These mirror her soul-destroying existence helping her cope with the perversions of innocence Fascism represents in this ravishingly presented pitch-black fable for adults.
Saturday 26th April @ 22:55 – HALLOWEEN III: SEASON OF THE WITCH (1982)
The only instalment of the Halloween series to abandon the Michael Myers story line, this is an intricate sci-fi horror hybrid about a large Halloween mask-making company that has a diabolical plan to kill millions of American children with something sinister hidden in Halloween masks. Directed by Tommy Lee Wallace and starring Tom Atkins, John Carpenter acted as producer and also co-composed the soundtrack.
TV: Sky 319 / Virgin 149 / Freesat 138