SyFy have finally confirmed the air date of their highly anticipated sequel to last years monster hit, Sharknado. With the awesome title of Sharknado 2: The Second One, SyFy have confirmed that the film will premiere on the SyFy Channel Thursday, July 31st, at 9 PM PT/ET.
THR exclusively revealed the news, and with it comes a list of bizarre names set to cameo in the film.
Blogger Perez Hilton will make a cameo in Sharknado 2, along with Biz Markie and Salt-N-Pepa's Pepa (aka Sandra Denton).
Robert Klein and professional wrestler/Olympic gold medalist Kurt Angle have also joined the TV movie, playing former New York City mayor and the FDNY fire chief, respectively.
A few weeks ago the following names were also added to the huge cast:
Vivvica A. Fox will play Fin's old high school friend, Skye.
Mark McGrath will play Fin's brother-in-law.
Kelly Osbourne will play the flight attendant.
Andy Dick will play the police officer.
Judah Friedlander is set to play Brian.
Judd Hirsch plays a taxi driver.
And here are all the rest of the details of the film, including the main cast, who is directing and the awesome synopsis, in case you missed it all before!
Ian Ziering and Tara Reid will reprise their roles as Fin and April in the eagerly awaited Sharknado sequel, Sharknado 2: The Second One.  Anthony Ferrante will once again direct a screenplay by Thunder Levin, who also wrote Sharknado, the iconic pop culture sensation which chainsawed its way through social media last summer.
In Sharknado 2: The Second One, a freak weather system turns its deadly fury on New York City, unleashing a Sharknado on the population and its most cherished, iconic sites – and only Fin and April can save the Big Apple.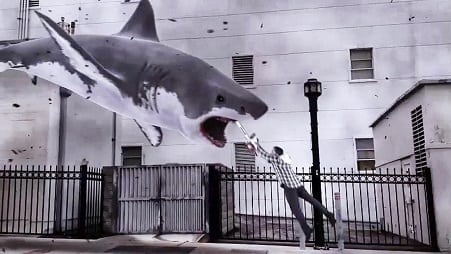 Said Thomas Vitale, Executive Vice President, Programming and Original Movies, Syfy: "Sharknado was an extraordinary 'perfect storm' which captured the attention of movie fans across the globe. You couldn't go anywhere without hearing about Sharknado! By reassembling the creative team – and dropping sharks onto New York's iconic sites – we're unleashing yet another 'fin' wave of shark-mania."
Added Paul Bales, COO, The Asylum: "We're thrilled to be able to bring back the talent that made Sharknado a hit. Can lightning strike twice? I don't know, but it's a scientific fact that you're more likely to be killed by lightning than by a shark. This film will have lightning and sharks, so that's got to count for something."
The Asylum and Syfy have struck a deal with legendary casting director Mike Fenton and his partner Ann Frederick, of Fenton-Frederick Casting, to supervise cameo casting.
About The Asylum
The Asylum is one of the world's leading brand-oriented motion picture and television studios. With a focus on high-concept, market-driven entertainment like Sharknado, The Asylum finances, produces and releases 25 films per year through its direct pipeline to the nation's top retailers and its network of international partners. Since its founding in 1997 by partners David Michael Latt and David Rimawi, The Asylum has released more than 500 films and has built a library of over 200 original productions, including top-rated movie premieres for Syfy, Lifetime, and Animal Planet networks. The Asylum released 10 theatrical films in 2013 and is producing a 13-episode action-horror series for 2014.
About Syfy
Syfy is a media destination for imagination-based entertainment. With year round acclaimed original series, events, blockbuster movies, classic science fiction and fantasy programming, a dynamic Web site (www.Syfy.com), and a portfolio of adjacent business (Syfy Ventures), Syfy is a passport to limitless possibilities. Originally launched in 1992 as SCI FI Channel, and currently in more than 98 million homes, Syfy is a network of NBCUniversal, one of the world's leading media and entertainment companies. NBCUniversal is owned by Comcast Corporation. (Syfy. Imagine Greater.)