She-Wolf of the Woods (2013)
Directed by: Adriana Polito
Written by: Adriana Polito
Starring: David R. Montgomery, Jamie Evans, Jason Harvey, Toni Benedetti, Tyne Roberts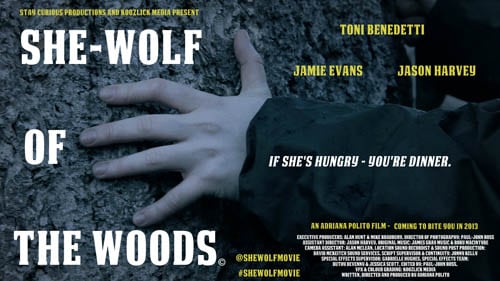 SHE-WOLF OF THE WOODS (2013)
Written and directed by Adriana Polito
A young man discovers the forest ranger's nocturnal activities after she lures him to her cabin in the woods after an evening out.
SHE-WOLF OF THE WOODS is a short horror cum comedy set in the quiet village and forest of Dalavich, Scotland. It's close-knit woodland setting creates a fantastic backdrop for the curious activities of Amy Shields, the local forest ranger. She has quite a taste in men, as we discover, and frequently goes out on the pull, looking out for those in particular who are eager for a bit of nookie.
The comedy in SHE-WOLF OF THE WOODS isn't in your face, but instead subtle and tongue-in-cheek, which works really well for the film and raises a few laughs. The dialogue is pretty straight for the most part, but Jamie Evans provides some comedic relief as Southern state American, Ben.
The cinematography is fantastic with some great close up shots of the cast as well as shoes as the actors enter buildings or exit cars. The interesting camera angles only help to give a sensual flavour to the short as well as stimuating the viewer visually. The use of colour is used to the film's advantage also, giving some scenes a dreamy aura and others a bolder tone, depending on the need from the scene's content.
One of the things I loved about this short film, other than the story, was the music. Inspired by the 70's no doubt, the music perfectly matched the visual, which itself at times seemed to emit a 70s feel of its own. The FX work too, which was practical, was also a joy to see and really added charm and authenticity to the film.
The small cast are superb and play their characters with gusto, even the ones that didn't even utter a single line of dialogue. Toni Benedetti brought the majority of the tongue-in-cheek humour as Amy Shields, whilst Tyne Roberts stars as her sultry friend, Lucille who's got plans for Jamie Evan's dumb but lovable Ben.
A Scottish take on the werewolf genre, packed with its own brand of wicked humour, will have horror fans smiling from ear to ear.