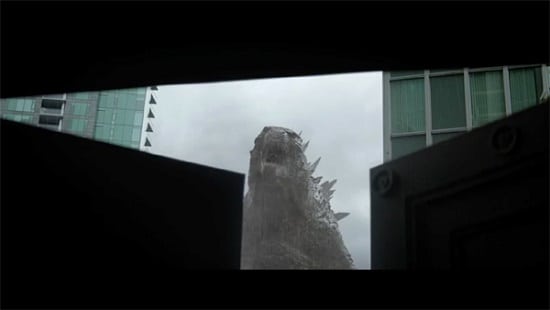 We all know that Gareth Edwards' Godzilla will feature some other monsters, but so far things have been kept tightly under wraps, but there was certainly a glimpse of one in the trailer.
Below are two stills from the recently released, and pretty damn amazing Godzilla trailer, and the stills reveal something very large landing almost on top of a group of soldiers. Up until now fans have speculated as to what it could be, and now we have the answer.
The above images are that of a new monster called Muto, and the pretty badass monster looks very much like the awesome monster from Cloverfield. Cosmic Book News revealed some photos of a new range of Godzilla toys called Godzilla Destruction, and if you take a look at the photos below, you will see Muto. Check out the arms on the monster, and it is clearly the same as the images from the trailer above.
An epic rebirth to Toho's iconic Godzilla, this spectacular adventure, from Warner Bros. Pictures and Legendary Pictures, pits the world's most famous monster against malevolent creatures who, bolstered by humanity's scientific arrogance, threaten our very existence.
Gareth Edwards directs Godzilla, which stars Aaron Taylor-Johnson ("Kick- Ass"), Oscar nominee Ken Watanabe ("The Last Samurai," "Inception"), Elizabeth Olsen ("Martha Marcy May Marlene"), Oscar® winner Juliette Binoche ("The English Patient," "Cosmopolis"), and Sally Hawkins ("Blue Jasmine"), with Oscar® nominee David Strathairn ("Good Night, and Good Luck.," "The Bourne Legacy") and Bryan Cranston ("Argo," TV's "Breaking Bad").
Edwards directs from a screenplay by Max Borenstein and Oscar ® nominee Frank Darabont ("The Green Mile," "The Shawshank Redemption"), story by David Callaham and Max Borenstein, based on the character "Godzilla" owned and created by TOHO CO., LTD. Thomas Tull and Jon Jashni are producing with Mary Parent and Brian Rogers. Patricia Whitcher and Alex Garcia are serving as executive producers,
alongside Yoshimitsu Banno and Kenji Okuhira.
The behind-the-scenes creative team includes Oscar®-nominated director of photography Seamus McGarvey ("Anna Karenina," "Atonement"); production designerOwen Paterson ("The Matrix" trilogy); editor Bob Ducsay ("Looper"); Oscar-nominated costume designer Sharen Davis ("Dreamgirls," "Ray," "Django Unchained"); and Oscar®-winning visual effects supervisor Jim Rygiel (the "Lord of the Rings" films). The score is being created by Oscar®
-nominated composer Alexandre Desplat ("Argo," "The King's Speech").
Warner Bros. Pictures and Legendary Pictures present a Legendary Pictures production, a Gareth Edwards film, "Godzilla." Slated to open beginning May 16, 2014, the film is expected to be presented in 3D, 2D and IMAX® in select theatres and will be distributed worldwide by Warner Bros. Pictures, a Warner Bros. Entertainment Company, except in Japan, where it will be distributed by Toho Co., Ltd. Legendary Pictures is a division of Legendary Entertainment.