New images have been released for the following films:
Godzilla – Opens 16th May and stars Aaron Taylor-Johnson, Bryan Cranston, Elizabeth Olsen, Juliette Binoche, and David Strathairn
Synopsis:
In Summer 2014, the world's most revered monster is reborn as Warner Bros. Pictures and Legendary Pictures unleash the epic action adventure "Godzilla." From visionary new director Gareth Edwards ("Monsters") comes a powerful story of human courage and reconciliation in the face of titanic forces of nature, when the awe-inspiring Godzilla rises to restore balance as humanity stands defenseless.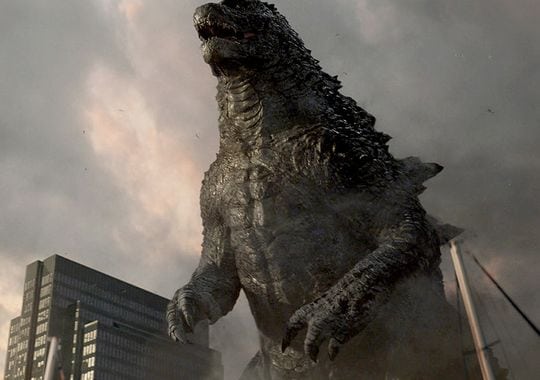 Transformers: Age of Extinction – Opens 10th July in UK cinemans and stars Mark Wahlberg, Nicola Peltz, Jack Reynor, Kelsey Grammer, Stanley Tucci.
The official synopsis is yet to be released.
Jupiter Ascending – Opens 25th July in the UK and stars Channing Tatum, Mila Kunis, Eddie Redmayne, and Sean Bean.
Synopsis:
From the streets of Chicago to the far-flung galaxies whirling through space, "Jupiter Ascending" tells the story of Jupiter Jones (Mila Kunis), who was born under a night sky, with signs predicting she was destined for great things. Now grown, Jupiter dreams of the stars but wakes up to the cold reality of a job cleaning other people's houses and an endless run of bad breaks. Only when Caine (Channing Tatum), a genetically engineered ex-military hunter, arrives on Earth to track her down does Jupiter begin to glimpse the fate that has been waiting for her all along—her genetic signature marks her as next in line for an extraordinary inheritance that could alter the balance of the cosmos.
Guardians of the Galaxy – Opens 1st August and stars Chris Pratt, Zoe Saldana, Dave Bautista, Benicio Del Toro, Karen Gillan, Glenn Close, John C. Reilly, and the voices of Bradley Cooper and Vin Diesel.
Synopsis:
From Marvel, the studio that brought you the global blockbuster franchises of Iron Man, Thor, Captain America and The Avengers, comes a new team – the Guardians of the Galaxy. An action-packed epic space adventure, Marvel's "Guardians of the Galaxy" expands the Marvel Cinematic Universe into the cosmos, where brash adventurer Peter Quill finds himself the object of an unrelenting bounty hunt after stealing a mysterious orb coveted by Ronan, a powerful villain with ambitions that threaten the universe. To evade the ever-persistent Ronan, Quill is forced into an uneasy truce with a quartet of disparate misfits – Rocket, a gun-toting raccoon, Groot, a tree-like humanoid, the deadly and enigmatic Gamora and the revenge-driven Drax the Destroyer. But when Peter discovers the true power of the orb and the menace it poses to the cosmos, he must do his best to rally his ragtag rivals for a last, desperate stand – with the galaxy's fate in the balance.
(Source: USA Today)