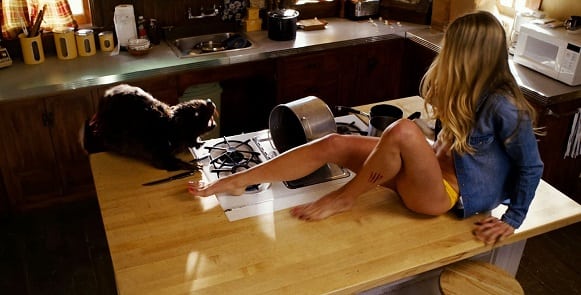 A couple of horror deals were made at Cannes overnight, and we have all the details right here for you. The horror comedy creature feature Zombeavers has made worldwide distribution deals, while the Neil Marshall produced haunter Soulmate has been acquired for UK distribution by Soda Pictures.
Zombeavers:
Zombeavers has taken a bite out of the market as Epic Pictures heads Patrick Ewald and Shaked Berenson announced a slew of deals.
The horror comedy received its world premiere at the Tribeca Film Festival last month after the trailer went viral, generating more than 2.5m hits.
Rights have gone to Benelux and German-speaking Europe (Splendid Films), Spain (A Contracorriente Films), France (Zylo), Australia and New Zealand (Roadshow) and the Middle East (Prime Pictures).
Epic is understood to be closing a multi-territory deal with a major distributor for the UK, Scandinavia, Latin America and Eastern Europe excluding Russia and a pan-Asian pay-TV deal with a studio.
Negotiations are ongoing for Russia, Taiwan and South Korea.
Directed by Jordan Rubin, Zombeavers stars Cortney Palm, Lexi Atkins, Rachel Melvin, Hutch Dano and Jake Weary.
Synopsis:
ZOMBEAVERS is an action-packed horror/comedy in which a group of college kids staying at a riverside cabin are menaced by a swarm of deadly zombie beavers. A weekend of sex and debauchery soon turns gruesome as the beavers close in on the kids. Riding the line between scary, sexy and funny, the kids are soon fighting for their lives in a desperate attempt to fend off the hoard of beavers that attack them in and around their cabin.
Soulmate:
Soda Pictures has acquired UK rights to completed Genesis Film Sales thriller Soulmate, now due for a July release.
Anna Walton (Hellboy 2), Tom Wisdom (300), Nick Brimble (A Knight's Tale) and Emma Cleasby (Dog Soldiers) star in the story of a young widow who is disturbed by a cottage's previous inhabitant after a failed suicide attempt.
Writer-director Axelle Carolyn's feature debut is produced by Claire Otway and is a Neil Marshall (The Descent, Dog Soldiers) presentation for Sterling Pictures.
Executive producers on the film are Michael Riley, Giles Daoust, John Wolstenholme and Doug Abbott for Screen Projex, alongside Belgian co-producer Title Media.
Soulmate is written and directed by first time director Axelle Carolyn, and the films cast includes Anna Walton (Hellboy 2), Tom Wisdom (300), Nick Brimble (A Knight's Tale), and Emma Cleasby (Dog Soldiers). Neil Marshall (Dog Soldiers, The Descent) produced.
Synopsis:
Axelle Carolyn makes her impressive feature debut with a sophisticated ghost story. After attempting to commit suicide due to the sudden death of her husband, Audrey (Anna Walton) decides to retreat to a remote country cottage. But she soon discovers her safe haven is haunted by its previous owner.
(Source: ScreenDaily)