Released 4th July:
The Anomaly (15) Running time: 97 minutes
Director: Noel Clarke, Writer: Simon Lewis
Cast: Noel Clarke, Brian Cox, Ian Somerhalder, Alexis Knapp, Luke Hemsworth
A former soldier is taken captive and awakens in the back of a van to learn he only has a few moments to figure out how he got there. It's a unique concept set in the near future that explores the idea of mind control.
Vampire Academy (12A) Running time: 104 minutes
Director: Mark Waters,  Writers: Richelle Mead, Daniel Waters
Cast: Zoey Deutch, Lucy Fry, Danila Kozlovsky, Gabriel Byrne, Dominic Sherwood, Olga Kurylenko
Based on author Richelle Mead's worldwide bestselling series, VAMPIRE ACADEMY tells the legend of Rose Hathaway (Zoey Deutch) and Lissa Dragomir (Lucy Fry), two 17-year-old girls who attend a hidden boarding school for Moroi (mortal, peaceful Vampires) and Dhampirs (half-vampire/half-human guardians). Rose, a rebellious Guardian-in-training and her best friend, Lissa – a royal vampire Princess – have been on the run when they are captured and returned to St.Vladamir's Academy, the very place where they believe their lives may be in most jeopardy. Thrust back into the perils of Moroi Society and high school, Lissa struggles to reclaim her status while Rose trains with her mentor and love-interest, Dimitri (Danila Kozlovsky), to guarantee her place as Lissa's guardian. Rose will sacrifice everything to protect Lissa from those who intend to exploit her from within the Academy walls and the Strigoi (immortal, evil vampires) who hunt her kind from outside its sanctuary.
Released 5th July: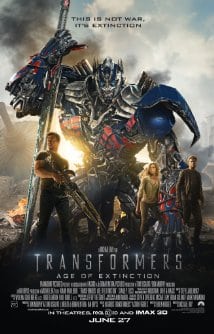 Transformers: Age of Extinction (12A) Running time: 165 mins
Director: Michael Bay, Writer: Ehren Kruger
Cast: Mark Wahlberg, Nicola Peltz, Jack Reynor, T.J. Miller, Stanley Tucci, Ken Watanabe, John Goodman, Kelsey Grammer
As humanity picks up the pieces, following the conclusion of Transformers: Dark of the Moon, Autobots and Decepticons have all but vanished from the face of the planet. However, a group of powerful, ingenious businessman and scientists attempt to learn from past Transformer incursions and push the boundaries of technology beyond what they can control – all while an ancient, powerful Transformer menace sets Earth in his crosshairs. The epic adventure and battle between good and evil, freedom and enslavement ensues.
Released 10th July:
How to Train Your Dragon 2 (PG) Running time: 105 minutes
Director: Dean DeBlois, Writers: Dean DeBlois, Cressida Cowell
Cast: Jay Baruchel, Kristen Wiig, America Ferrera, Gerard Butler, Jonah Hill, Cate Blanchett, Christopher Mintz-Plasse
It's been five years since Hiccup and Toothless successfully united dragons and vikings on the island of Berk. While Astrid, Snotlout and the rest of the gang are challenging each other to dragon races (the island's new favorite contact sport), the now inseparable pair journey through the skies, charting unmapped territories and exploring new worlds. When one of their adventures leads to the discovery of a secret ice cave that is home to hundreds of new wild dragons and the mysterious Dragon Rider, the two friends find themselves at the center of a battle to protect the peace. Now, Hiccup and Toothless must unite to stand up for what they believe while recognizing that only together do they have the power to change the future of both men and dragons.
Released 11th July:
Boyhood (15) Running time: 166 minutes
Director: Richard Linklater,  Writer: Richard Linklater
Cast: Ella Coltrane, Patricia Arquette, Ethan Hawke
Filmed over 12 years with the same cast, Richard Linklater's BOYHOOD is a groundbreaking story of growing up as seen through the eyes of a child named Mason (a breakthrough performance by Ellar Coltrane), who literally grows up on screen before our eyes. Starring Ethan Hawke and Patricia Arquette as Mason's parents and newcomer Lorelei Linklater as his sister Samantha, BOYHOOD charts the rocky terrain of childhood like no other film has before. Snapshots of adolescence from road trips and family dinners to birthdays and graduations and all the moments in between become transcendent, set to a soundtrack spanning the years from Coldplay's Yellow to Arcade Fire's Deep Blue. BOYHOOD is both a nostalgic time capsule of the recent past and an ode to growing up and parenting.
Released 17th July:
Dawn of the Planet of the Apes (12A) Running time: 130 minutes
Director: Matt Reeves, Writers: Rick Jaffa, Amanda Silver, Mark Bomback
Cast: Gary Oldman, Andy Serkis, Jason Clarke, Keri Russell, Judy Greer, Toby Kebbell
A growing nation of genetically evolved apes led by Caesar is threatened by a band of human survivors of the devastating virus unleashed a decade earlier. They reach a fragile peace, but it proves short-lived, as both sides are brought to the brink of a war that will determine who will emerge as Earth's dominant species.
Released 25th July:
Earth to Echo (PG) Running time: 89 minutes
Director: Dave Green, Writer: Henry Gayden
Cast: Teo Halm, Astro, Reese Hartwig, Ella Wahlestedt
Tuck, Munch and Alex are a closely bonded trio of inseparable friends, but their time together is coming to an end. Their neighborhood is being destroyed by a highway construction project that is forcing their families to move away. But just two days before they must part ways, the boys find a cryptic signal has infected their phones. Convinced something bigger is going on and looking for one final adventure together, they set off to trace the messages to their source and discover something beyond their wildest imaginations: hiding in the darkness is a mysterious being, stranded on Earth, and wanted by the government. This launches the boys on an epic journey full of danger and wonder, one that will test the limits of their friendship and change all of their lives forever.
Hercules (12A) Running time: 98mins
Director: Brett Ratner,  Writers: Ryan Condall, Evan Spiliotopoulos
Cast: Dwayne Johnson, John Hurt, Ian McShane, Joseph Fiennes, Peter Mullan, Rufus Sewell, Robert Maillet, Irina Shayk
Fourteen hundred years ago, a tormented soul walked the earth that was neither man nor god. Hercules was the powerful son of the god king Zeus, for this he received nothing but suffering his entire life. After twelve arduous labours and the loss of his family, this dark, world-weary soul turned his back on the gods finding his only solace in bloody battle. Over the years he warmed to the company of six similar souls, their only bond being their love of fighting and presence of death. These men and women never question where they go to fight or why or whom, just how much they will be paid. Now the King of Thrace has hired these mercenaries to train his men to become the greatest army of all time. It is time for this bunch of lost souls to finally have their eyes opened to how far they have fallen when they must train an army to become as ruthless and blood thirsty as their reputation has become.
Joe (15) Running time: 117 minutes
Director: David Gordon Green,  Writers: Larry Brown, Gary Hawkins
Cast: Nicolas Cage, Tye Sheridan, Gary Poulter, Ronnie Gene Blevins
A gripping mix of friendship, violence and redemption erupts in the contemporary South in this adaptation of Larry Brown's novel, celebrated at once for its grit and its deeply moving core. Directed by David Gordon Green, JOE film brings Academy Award® winner Nicolas Cage back to his indie roots in the title role as the hard-living, hot-tempered, ex-con Joe Ransom, who is just trying to dodge his instincts for trouble — until he meets a hard-luck kid, (MUD's Tye Sheridan) who awakens in him a fierce and tender-hearted protector. With a screenplay by Gary Hawkins, JOE is based on the novel by the late Larry Brown (Big Bad Love, Facing the Moon), the former Mississippi firefighter renowned for his powerful, gothic storytelling and universal themes of honor, desperation and moral rectitude.
The Purge: Anarchy (15) Running time: 103 minutes
Director: James DeMonaco,  Writer: James DeMonaco
Cast: Frank Grillo, Michael K. Williams, Kiele Sanchez, Zach Gilford,Carmen Ejogo, Jasper Cole, Zoe Borde, Chad Morgan 
The New Founders of America invite you to celebrate your annual right to Purge in THE PURGE: ANARCHY. Returning alongside writer/director/producer James DeMonaco to produce the sequel to 2013's sleeper hit are Blumhouse Productions' Jason Blum (Paranormal Activity and Insidious series), alongside Sébastien K. Lemercier (Assault on Precinct 13, Four Lovers) and Platinum Dunes partners Michael Bay (Pain & Gain, Transformers franchise), Brad Fuller (The Amityville Horror, A Nightmare on Elm Street) and Andrew Form (The Texas Chainsaw Massacre, Friday the 13th).
Released 31st July:
Guardians of the Galaxy (12A) Running time: 122 minutes
Director: James Gunn,  Writers: James Gunn, Nicole Perlman, Dan Abnett, Andy Lanning
Cast: Chris Pratt, Zoe Saldana, Dave Bautista, Vin Diesel, Bradley Cooper, Lee Pace, Karen Gillan, John C. Reilly, Glenn Close, Michael Rooker, Djimon Hounsou, Peter Serafinowicz, Benicio Del Toro. 
From Marvel, the studio that brought you the global blockbuster franchises of Iron Man, Thor, Captain America and The Avengers, comes a new team – the Guardians of the Galaxy. An action-packed epic space adventure, Marvel's "Guardians of the Galaxy" expands the Marvel Cinematic Universe into the cosmos, where brash adventurer Peter Quill finds himself the object of an unrelenting bounty hunt after stealing a mysterious orb coveted by Ronan, a powerful villain with ambitions that threaten the universe. To evade the ever-persistent Ronan, Quill is forced into an uneasy truce with a quartet of disparate misfits – Rocket, a gun-toting raccoon, Groot, a tree-like humanoid, the deadly and enigmatic Gamora and the revenge-driven Drax the Destroyer. But when Peter discovers the true power of the orb and the menace it poses to the cosmos, he must do his best to rally his ragtag rivals for a last, desperate stand – with the galaxy's fate in the balance. Marvel's "Guardians of the Galaxy" is presented by Marvel Studios. The film releases August 1, 2014, and is distributed by Walt Disney Studios Motion Pictures.