Gallowwalkers (2012)
Directed by: Andrew Goth
Written by: Andrew Goth, Joanne Reay
Starring: Kevin Howarth, Riley Smith, Wesley Snipes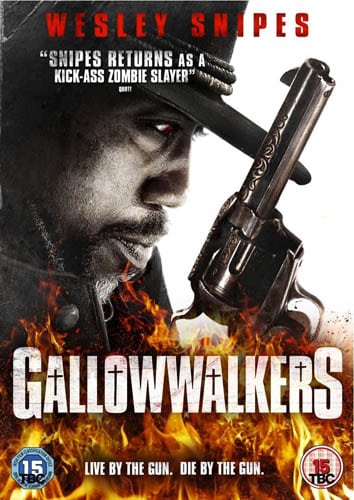 GALLOWWALKERS (2012)
Directed by Andrew Goth
A mysterious gunman named Aman roams the desert in search of revenge against the Gallowwalkers – a group of undead bandits who've returned from the grave to hunt Aman down himself.
From director Andrew Goth comes GALLOWWALKERS, a supernatural, blood-thirsty western starring Wesley Snipes. With a basic bare-bones storyline, that is never fleshed out or given any sort of depth, this action flick is to be enjoyed as no-brain gunslinging entertainment. Those who are looking for deeper meaning or more challenging plot will be sorely disappointed.
Wesley Snipes stars as Aman, a brooding loner who's hellbent on revenge after the love of his life is gang raped. After his first round of assassinations goes pear shaped, he decides to recuit some help in the form of bland but talented Fabulos, played by Riley Smith. Aman's victims rise from the dead, albeit decaying and disfigured, and decide to hunt down the gunman to destroy him before he does them. Though, they may be a bit hard to recognise with the need to acquire new skin to mask themselves with. Fortunately for Aman, the bandits have chosen a tribe of platinum blonde haired individuals to skin, whilst other members of the bandit clan haven't even bothered to disguise themselves.
Despite a shallow plot, GALLOWWALKERS features some awesome kill scenes, particularly those that involve slicing enemies heads off their bodies complete with spinal cord attached (and in some case, wiggling about). There's not a terrific amount of action, if I'm completely honest, but what little there is can be enjoyed if you just sit back with a beer and some pizza or just watch for fun and kicks. Most people will be watching for Wesley Snipes anyhow and I'm sure, like me, you'll be satisfied enough even if it's a one-watch wonder.
There's a bit of light humour amidst all the gunslinging in GALLOWWALKERS, with one character donning a lizard as a scalp. His character appears only to be present to serve as comic relief and for a specific purpose towards the end of the movie. The main antagonist, Kansa, played by Kevin Howarth, has little menace about him to care, but his whore appears to have sass as she states to Aman when they meet during her reincarnation, "I blew you a kiss, you blew me away". I laughed, even if it was a little corny, but the film as a whole should be taken very lightly.
Some spectacular locations, with the isolated deserts, are probably the most stunning thing about the movie, coupled with the costumes which are striking to say the least. The wig department might want speaking to though as there's some seriously dodgy hair floating about during the shoot.
All in all, Gallowwalkers isn't a bad movie, it's just not a good one either. Enjoy it as a bit of light action-horror entertainment and you shouldn't have any qualms, but those looking for something with substance won't find any here.
Rating: