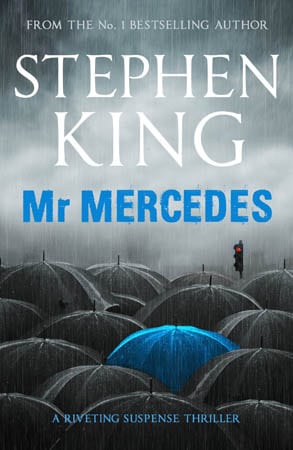 Today, Thursday 29 May 2014, marks the official countdown to publication for No. 1 bestselling writer Stephen King's new novel, MR MERCEDES, which publishes on 3rd June 2014. To celebrate this monumental publishing event, King's publisher Hodder & Stoughton have created a series of stunning animated videos bringing some of King's classic characters to life.
The five mini-animations (created by director-animator Andrew Griffin) each feature a different character from one of King's celebrated books, and together will reveal more about Mr Mercedes, the eponymous character in King's memorable new novel.
The first video has been released and can be viewed via the official Facebook page, Stephen King Books.
The remaining videos will be released via Facebook in the five days leading up to publication.
MR MERCEDES is a riveting cat-and-mouse thriller from the master of suspense whose insight into the mind of an obsessed, insane killer is chilling and unforgettable.
On publication day, 3rd June 2014, the animations will be edited and released as an introduction to the novel, with a fresh scene revealing Mr Mercedes himself to readers.
Publication of the hardcover, audio digital download and eBook will be on 3 June, 2014. Pre-order MR MERCEDES.
Who is going to be the fish in this relationship, and who is going to be the fisherman?
Bill Hodges: retired cop.
Brady Hartsfield: the criminal whose case Hodges never solved.
Now each is closing in on the other once more in a mega-stakes, high suspense race against time from worldwide bestselling writer Stephen King.
'King's gift of storytelling is unrivalled' George Pelecanos
Retired homicide detective Bill Hodges is haunted by the few cases he left open, and by one in particular: in the pre-dawn hours, hundreds of desperate unemployed people were lined up for a spot at a job fair in the distressed Midwestern city where he worked. Without warning, a lone driver ploughed through the crowd in a stolen Mercedes. Eight people were killed, fifteen wounded. The killer escaped.
Months later, on the other side of the city, Bill Hodges gets a taunting letter in the mail, from a man claiming to be the perpetrator. Hodges wakes up from his depressed and vacant retirement, hell-bent on hunting him down.
Brady Hartsfield lives with his alcoholic mother in the house where he was born. And he is preparing to kill again.
Hodges, with a couple of misfit friends, must apprehend the killer in a high-stakes race against time. Because Brady's next mission, if it succeeds, will kill or maim hundreds, even thousands.