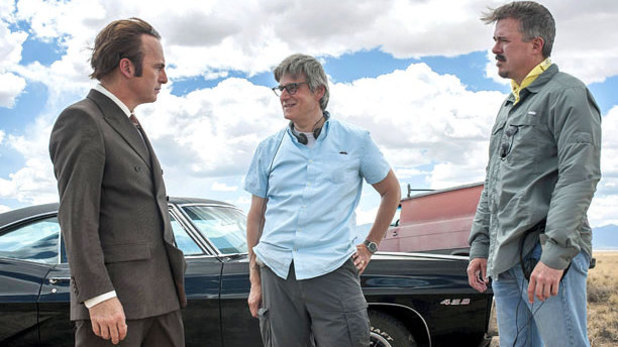 Breaking Bad still continues to find fans everwhere and while those who are still going through the story of Walter White, fans who have been there through the start have had to wait months and months to see a glimpse of the prequel Better Call Saul….
Above is a just released image of the the new show that will centre on lawyer Saul Goodman and will show the character's life before the events of Breaking Bad.
Actor Bob Odenkirk can be seen next to show runner Peter Gould and creator Vince Gilligan.
Better news is that the show has already been given a second series, such is the confidence of the whole project. 
The first, 10-part season of Better Call Saul will debut in early 2015. The second season, made up of 13 episodes, will follow in early 2016.
Its been reported that Bryan Cranston will somehow reprise his role as Walter White in the show.
More news on this when it happens….
Ross Hughes