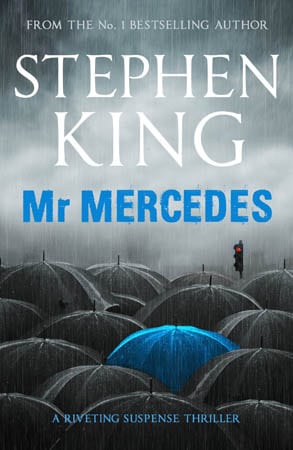 To celebrate the release of Stephen King's latest novel, Mr Mercedes, available in book shops now, we've a special trailer to share with our readers that introduces Mr Mercedes, through 5 animations.
[vimeo]https://vimeo.com/97148421[/vimeo]
Who is going to be the fish in this relationship, and who is going to be the fisherman?
Bill Hodges: retired cop.
Brady Hartsfield: the criminal whose case Hodges never solved.
Now each is closing in on the other once more in a mega-stakes, high suspense race against time from worldwide bestselling writer Stephen King.
'King's gift of storytelling is unrivalled' George Pelecanos
Retired homicide detective Bill Hodges is haunted by the few cases he left open, and by one in particular: in the pre-dawn hours, hundreds of desperate unemployed people were lined up for a spot at a job fair in the distressed Midwestern city where he worked. Without warning, a lone driver ploughed through the crowd in a stolen Mercedes. Eight people were killed, fifteen wounded. The killer escaped.
Months later, on the other side of the city, Bill Hodges gets a taunting letter in the mail, from a man claiming to be the perpetrator. Hodges wakes up from his depressed and vacant retirement, hell-bent on hunting him down.
Brady Hartsfield lives with his alcoholic mother in the house where he was born. And he is preparing to kill again.