After The Dark (2013)
Directed by: John Huddles
Written by: John Huddles
Starring: Bonnie Wright, Daryl Sabara, Freddie Stroma, James D'Arcy, Rhys Wakefield, Sophie Lowe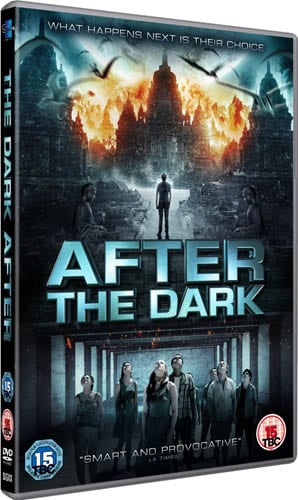 AFTER THE DARK (2013)
Written and directed by John Huddles
At an international school for privileged teenagers in Jakarta, Indonesia, philosophy teacher Mr. Zimit challenges the class to a final thought experiment to close the last day of their school year. The class of 21 are each given a card with an occupation on and must imagine an apocalyptic scenario where their only safety and path to survival is a bunker that holds 10 people, no more, for one year. The teenage students must discuss who should be allowed into the bunker given what they know about the each other, i.e. their occupations, in a bid to survive the disaster and rebuild society a year later.
John Huddles' AFTER THE DARK is a feature length movie detailing a thought experiment with a class of teenagers. The experiment is repeated three times over the course of the day, with their teacher Mr Zimit adding new rules and layers with each experiment. What is depicted is almost like a shared dreaming experience as the teens and teacher are able to do things and experience emotions that they could not otherwise talk about unless they were all experiencing the same dream as though it was real, like the characters do in Inception. Except, this is not the case. The class are all sat down on chairs in a classroom yet a character can go inside the bunker and steal a gun without anyone looking yet a character cannot magically conjure one up from thin air. Another example of this is between two of the leads, James and Petra, who are in a relationship in real life. James is given the role of an organic farmer who happens to be gay, so in their dream experiment he gets it on with another character, and Petra walks in on them at it and spits her dummy out. Things like this couldn't happen through pure discussion-based dreaming, but do so in the movie, so be prepared these mind-boggling holes.
The cast of After The Dark are pretty capable, with a handful of Brits, Australians and Americans amongst others gracing the cast. Most notably are Cloud Atlas and Master and Commander's James D'Arcy, Spy Kids and Machete star Daryl Sabara and Harry Potter star Freddie Stroma. Yorkshire-born actress Sophie Lowe takes the co-lead as Petra who seems the focus of the experiment as we find out as the plot progresses. For a cast that's predominantly teenage with James D'Arcy's teacher Mr Zimit the only adult, this will probably appeal more to the younger crowd than the older, though the ideas and perceptions which the characters suggest can be universally appreciated.
It's fun to sit back and theorise who you'd choose to allow into the bunker and what sort of outcome may occur, but besides that and watch the endless possibilities play out on screen, this film offers very little else. Whilst the characters are easy to like, there's no actual bond created with them and they each feel like like chess pieces – part of someone's game. The conclusion of the film doesn't exactly ramp things up either. Other than offering up a thought experiment of your own, the film has no backbone or discernable plot which makes it only good for one viewing.
Rating: