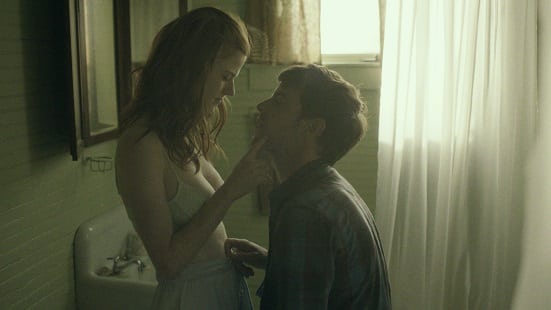 Playing as part of Film4's FrightFest on August 22nd is director Leigh Janiak's creepy horror, Honeymoon, and some new images have now been released from the film.
Honeymoon is due for a major US VOD, iTunes and Cinema release on September 12th, and in anticipation of that, and also its FrightFest performance, a number of images have been released. You will find the images above and below, and I have also included the films trailer, because it is utterly amazing!
Leigh Janiak's directorial debut stars Rose Leslie and Harry Treadaway as newlyweds whose lakeside honeymoon is disrupted when the bride begins to exhibit strange behavior.
Janiak co-wrote with Phil Graziadei and Patrick Baker and Esmé Howard produced.
HONEYMOON features rising star Rose Leslie (HBO's "Game of Thrones," "Downton Abbey") and Harry Treadaway (The Lone Ranger, "Penny Dreadful"). Janiak co-wrote the film with Phil Graziadei; Patrick Baker and Esmé Howard produced.
Leslie and Treadaway star as young newlyweds who travel to remote lake country for their honeymoon where the promise of private romance awaits them. Shortly after arriving, Paul finds Bea wandering and disoriented in the middle of the night. As she becomes more distant and her behavior increasingly peculiar, Paul begins to suspect something more sinister than sleepwalking took place in the woods.
"HONEYMOON is an auspicious debut from the very talented Leigh Janiak, who has a preternatural mastery of tone and mounting dread, not to mention a deft hand with actors," said Magnolia President Eamonn Bowles. "Rose Leslie and Harry Treadaway have stunning chemistry—they light up the screen."