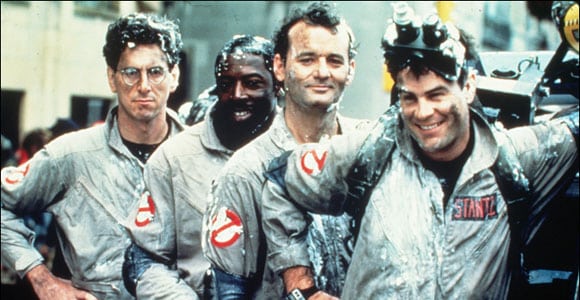 Last month it was announced that Ghostbusters, one of the greatest films ever made, would be heading to US cinemas to celebrate its 30th anniversary, ahead of a special DVD & Blu-Ray release.
Now it has been confirmed that the film will also celebrate here in the UK, with a one day special event where the film will be screened in cinemas. Grab your calendars and write this date down: Tuesday October 28th, for that it when the film screens in UK cinemas!
There will also be specially restored DVD  and Blu-ray releases of both Ghostbusters and Ghostbusters II (making its Blu-Ray debut) and these will be released on September 1st.
"'Ghostbusters' is still one of our studio's most beloved franchises – I was lucky enough to work on the release of the film on its first run, so it's a real thrill for me to see that it's still connecting with audiences everywhere," said Rory Bruer, president of worldwide distribution for Sony Pictures, in a statement. "On the big screen or in home entertainment, this is a great movie to experience again and again."
The Blu-ray versions of both "Ghostbusters" and "Ghostbusters II" include conversations with director Ivan Reitman and Dan Aykroyd, as well as never-before-seen deleted scenes from "Ghostbusters II."
"To celebrate this milestone anniversary, we wanted to create something new and collectible for fans. These new 'Ghostbusters' Blu-rays will feature the highest quality presentation along with new content that reflects the rich history of this iconic franchise," said Lexine Wong, senior exec VP of worldwide marketing for Sony Pictures Home Entertainment.
Ghostbusters is one of those unique films that just never gets old, and can be watched time and time again without ever becoming boring, and the jokes continue to work over and over. For its time the special effects are dazzling, and the cast are just so darned likeable I can't imagine anyone in their right mind not loving it.