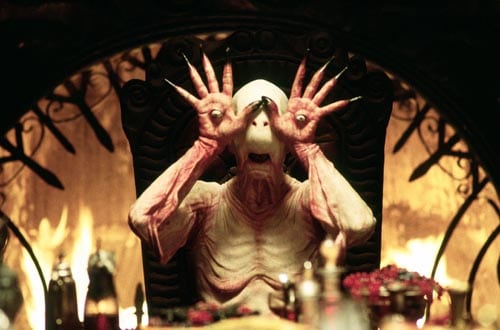 Horror Channel's film highlights for August are to include a celebration of the annual FrightFest event, the UK's leading horror and fantasy film festival. In the week that FrightFest celebrates its 15th year, Horror Channel presenter Emily Booth chooses her favourite movies from festivals past, which she'll also introduce. Among them are Guillermo Eel Toro's PAN'S LABYRINTH, Ti West's HOUSE OF THE DEVIL, Eli Roth's CABIN FEVER and THE VICTIM, in which cult actor Michael Biehn makes his directorial debut. This will be the film's UK TV Premiere.
EMILY'S FESTIVAL FRIGHTS SEASON – 18th to 24th August, 22:50
Mon 18 August @ 22:50 – DREAD (2009)
Adapted by writer/director Anthony DiBlasi from the Barker novella in 'Books of Blood Volume II', this is the story of three Boston college students – Stephen (TWILIGHT star Jackson Rathbone), Cheryl (Hanne Steen) and Quaid (Shaun Evans) who join forces to helm a Kinsey-style documentary study on the subject of fear. But two of the unholy trio are unaware the third is haunted by past demons causing chilling sociopath behaviour and a driven need to explore people's innermost terrors to extreme limits. The Meat Room awaits…
Tues 19 August @ 22:50 – THE HOUSE OF THE DEVIL (2009)
From THE ROOST director Ti West comes a slow-brewing, old school psychological horror at its finest, freakiest and most fiendish. Student Samantha has just moved into her own apartment and needs some fast cash for the rent. Answering a campus advert for a babysitter, she ends up at the creepy old remote country home of the strange Ulman couple. But something is clearly wrong. There seems to be no child. A total lunar eclipse is about to further darken the night skies. And Samantha's blood-freezing satanic panic begins…
Wed 20 August @ 22:50 – DEAD SNOW (2009)
When eight medical students go on a weekend ski trip to Øksfjord in Norway, the last thing on their minds is an army of frozen Nazi zombies. Get ready for a goose-stepping gore-fest, with gruesome beheadings, snowmobile dismemberment and an awesome body count. Director Tommy Wirkola's (Hansel & Gretel: Witch Hunters) outrageous sub-zero shocker is a fast, furious and very funny valentine to the early works of Peter Jackson and Sam Raimi. The sequel will premiere at FrightFest 2014.
Thurs 21 August @ 22:50 – MIDNIGHT SON (2011)
Debut feature director Scott Leberecht fashions a vampire tale with a fresh independent spirit. When a strange skin disease forces security guard Jacob to avoid sunlight and crave blood, he struggles to control increasingly violent impulses to move from black market donor packs to sucking on living victims. Then the local police start targeting him as a suspect in a series of grisly murder. Leberecht makes telling points about basic humanity to fashion a minor masterpiece brimming with vibrant performances and creepy unpredictability.
Fri 22 August @ 22:50 – CABIN FEVER (2002)
Recoil in disgust, laugh out loud and be scared rigid by director Eli Roth's hardcore feature film debut – a break-out horror about a deadly flesh-eating virus which topped the DVD charts in 2003. This is a splatter-filled wet dream expertly crafted by a devoted Evil Dead gore-hound for the like-minded. The hilariously shocking bloodbath details the gut-wrenching devastation inflicted by a flesh-eating virus on a group of holidaying graduates.
Sat 23 August @ 22:50 – THE VICTIM (2011) – *UK TV Premiere
Michael Biehn makes his directorial debut with this ode to sleazy 70s grindhouse exploitation. When her best friend Mary is brutally raped and killed in the woods by high-ranking crooked cops, stripper Annie finds her own life in jeopardy. Fleeing from the two attackers she seeks refuge from reclusive ex-convict Kyle. As Annie's assailants encroach, a battle of wits ensues. A sharply focused psychological thriller, suspense is pushed to the farthest limits of heart-stopping endurance..
Sun 24 August @ 22:50 – PAN'S LABYRINTH (2006)The film that secured Guillermo Del Toro's reputation as one of the finest diectors of his generation is essentially a companion piece to his equally as evocative The Devil's Backbone. His grim spin on 'Alice in Wonderland' is a ravishingly presented pitch-black fable for adults. Superbly acted and heartbreakingly beautiful, del Toro's mesmerizing phantasmagoria is an absolute masterpiece and has deserved the worldwide accolades and awards it has received.
Other UK TV premieres this month include: DEAR MY GACY, based on Jason Moss's memoir about prolific serial killer John Wayne Gacy, giallo-inspired thriller AMER and Mark Vadik's reality-based CYRUS: MIND OF A SERIAL KILLER.
Sat 9 August @ 22:55 – DEAR MR. GACY (2010) – *UK TV premiere
The movie Dear Mr. Gacy, a true story based on the book The Last Victim, explores the experiences of 18-year-old college student Jason Moss (played by Jesse Moss) and his relationship with notorious serial killer John Wayne Gacy (played by William Forsythe). What follows is a twisted psychological game of cat and mouse between two master manipulators, in which Jason's life is turned upside down and Gacy discovers new dimensions within himself. A true story from the producer of Monster.
Sat 16 August @ 22:50 – AMER (2009) – *UK TV Premiere
An artful masterpiece that gallio fans will absolutely not want to miss. Co-directors Helene Cattet and Bruno Forzani have created an immaculately flawless valentine to the 70s thriller genre. Recreating the motifs, clichés and visual codes from the vintage Italian back catalogue, the Belgian-based duo unfold a virtually dialogue free tale of frightening obsession, sexual sensation and stunning black-gloved murder. Starring Cassandra Foret and Charlotte Eugene-Guibbaud.
Sat 30 August @ 22:55 – CYRUS: MIND OF A SERIAL KILLER – *UK TV Premiere
A television reporter gets the lead of a lifetime while investigating the case of a Midwestern serial killer in this brutal horror yarn inspired by actual events. Shortly after learning that more than 200 college students have gone missing in a rural area of the American Midwest, Maria Sanchez (Danielle Harris) receives a call from a man (Lance Henriksen) claiming to personally know the killer. As the stranger speaks of irrepressible bloodlust, the terrifying story of Cyrus (Brian Krause) slowly comes into focus.
TV: Sky 319 / Virgin 149 / Freesat 138