Video Nasties The Definitive Guide 2: Draconian Days (2014)
Directed by: Jake West, Marc Morris
Written by: Jake West, Marc Morris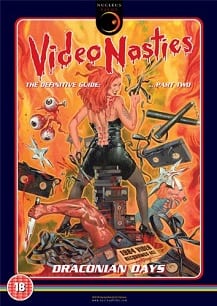 Video Nasties the Definitive Guide Part 2: Draconian Days
(18) Running time: 97 minutes
Director: Jake West, Marc Morris
Reviewed by: Matt Wavish
After creating the ultimate guide to the Video Nasty era with the superb documentary, Video Nasties: Moral Panic, Censorship and Videotape, director Jake West returns with a second documentary looking at the after effects. The Draconian Days looks at the creation of the BBFC after the Video Nasty hysteria, and delves deep into the following two decades to see if things improved, and clearly it took some time to recover from the panic created by the legendary Video Nasties madness.
Whether you are too young to remember (that makes me sound old!) or are simply looking for a nostalgic trip down memory lane, Video Nasties 2: The Draconian Days is a superb, informative and rousing documentary that will leave the viewer proud to be in love with such a controversial, powerful and beloved genre. Everything that happened, from the beginning of the BBFC to underground video selling and the creation of horror fanzines and festivals (hello FrightFest) are covered here in a blistering, rollicking ninety seven minutes of pure brilliance. No stone is left un-turned as West rips through a mountain of information with a calm, casual direction that makes the bucket load of facts easy to digest, and incredibly enjoyable.
As with the previous documentary, legendary horror figures all have something to say about what happened in the aftermath of the "moral panic". Kim Newman, FrightFest creators Alan Jones and Paul McEvoy and many other names who were heavily involved at the time (and still are) all contribute, as well as directors Alex Chandon (Inbred), Neil Marshall (The Descent), Christopher Smith (Severance) and even David Cronenberg shows up! The wealth of talent and knowledge here is unquestionable, and this really is the ultimate guide for any horror fan (or film fan for that matter) who wants to learn more about British film censorship, and how one man (BBFC creator James Ferman) felt he could control what people watch, and actually became quite power mad with his rules.
The documentary picks up right after where the first left off, after the Video Nasties outrage, and looking at the dawn of a new era of censorship as the VRA (Video Recording Act) gave way to James Ferman and his BBFC (British Board of Film Classification). Incredibly we are told that the BBFC had just 24 hours to certificate every film on release, a mighty task which they pulled off, and key bits of information like this pop up all over this fascinating film. You could argue that West was on a Witch hunt with Ferman, trying his best to destroy his name with constant interviews with BBFC insiders who both loved and loathed the man. Honesty is the key here as people close to Ferman discuss how the man went from respected leader of a difficult, yet highly important organisation, to a one man assault on violent, depraved films. However, West balances both sides of the story, showing insightful interviews with Ferman who, oddly, you can't side with but you will strangely feel sorry for. His eventual downfall by allowing adult films to be sold legally in sex shops, without consulting anyone else, is well documented here, and is quite emotional as we see a man who believes he doesn't have to answer to anybody finally get his comeuppance.
It is unbelievable to hear talk of how Ferman outright refused to grant The Exorcist a certification for fear of children watching it (because it starred a young girl), and how he actually took scissors to film reels if he was displeased. FrightFest creator Alan Jones recounts a hilarious moment where Ferman almost had him convinced that some of the horror films being made were too much for British consumption. Ferman held a meeting with those who needed to know, and played them a supercut reel of film containing violent scenes from films like Savage Man Savage Beast and Mark of the Devil. Ferman then played another reel, showing the stuff which was uncut, but already the audience were sickened, yet it was the onslaught of scenes cut together which caused this, Ferman's plan all along. As Jones points out, played out in an entire film, the scenes would not have had the same impact. Ferman also created a class divide where he publicly stated that lower and working class families did not have the maturity for violent films, again causing outrage.
The documentary is not all about Ferman, but being director of the BBFC, his character is key to what happened between the mid 80's and 1999 (when he left, and the BBFC drastically changed). We also see brief moments of another annoying censorship lover, Mary Whitehouse, however she appears after the attempted banning of Rambo 3 over a so-called copycat killing (the murderer was wearing a Rambo head scarf). Showing his comical side, West picks the funniest clip of Whitehouse, as she is surrounded in a studio by men dressed a Rambo, perfectly capturing how normal people felt about her crazy ideas.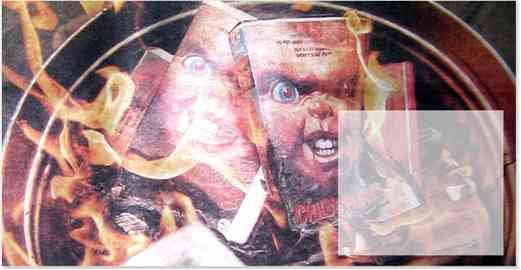 We are taken on a superb nostalgic journey here with focuses on films like Lucio Fulci's The New York Ripper, and how BBFC staff reacted, we touch on the James Bulger and Child's Play hysteria (which shows horror director Alex Chandon doing his best to try and argue with politicians on a talk show), the famous The Sun newspaper cover "Burn your Video Nasty" shows up, as well as frightened video rental store owners doing just that! Remember the man who introduced videos and their certificates with the snot coloured green background? Or the "re-record not fade away" message from Scotch tapes? The banning of crossbows, nunchucks and Ninja stars? It's all here and its wonderful!
West perfectly captures the public panic because of the messages given to them, and how easy it is to manipulate people into doing as they're told. I worked in a video rental store in the 90's, and I remember the banning of certain films and how we were told to remove them for fear of fines or even arrest. I also remember getting hold of the latest banned film and plugging in two, sometimes three tape recorders to make copies for friends (also working in a video shop had the perks of time coded previews, and some often got banned after I had made my copy!). It was MP David Alton of Manchester who was pushing for all films not child friendly to be banned, but even Ferman thought this too heavy, and eventually Alton's plans were rejected. Instead the Criminal Justice & Public Order Act was created, giving Police more powers than customs ever had to actually arrest and imprison films fans for having banned product.
The documentary takes a wild turn near the one hour mark as it focuses on the madness of fans having their houses raided by police, having their collection of collectable European horrors taken away, and facing imprisonment. Thankfully, and as explained by many contributors here, this pushed the films underground, and this was when the real sense of belonging to an exclusive club began. Underground bootleg sales were the place to meet likeminded fans, Fanzines were created which had trade lists in the back where you could buy or sell films not allowed in the UK, and the game was to be the first to find a film no one else had ever seen. Importing European horrors, the search for a better quality copy, video conventions and underground selling all lead to horror festivals being created, and as Shock Around the Clock lead to bigger things like FrightFest, the documentary delivers an almighty, rousing blow of belonging. It is almost like a battle cry for fans and you almost want to shout along with everyone on screen "we will not be deprived of what we love!".
Video Nasties the Definitive Guide Part 2 is fascinating, insightful, made with love and admiration of not only horror films, but all films and all aspects of movie censorship. West is never biased, and cleverly presents the facts, leaving the viewer to decide what is right or wrong. However West's concluding twenty minutes really do rouse a sense of "fight the power", and it is exhilarating. An amazing study of British censorship, perfectly captured and brilliantly directed, this is an absolute must-see for all films fans.
Rating: