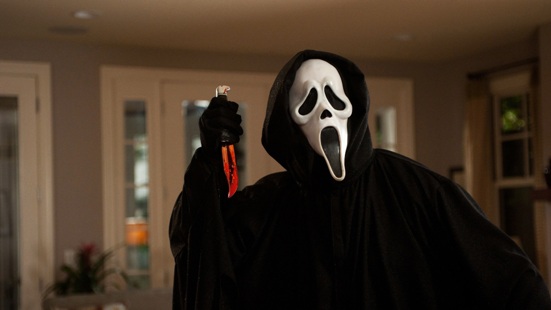 It has been rumoured ever since the show was first announced, that Wes Craven may be directing the pilot episode for MTVs Scream series, but today comes confirmation that Craven will NOT direct.
Variety confirmed that Jamie Travis, director of For A Good Time, Call… plus episodes of Faking It, will be directing the pilot.
Thesps cast in key roles for the reboot of the Wes Craven film franchise about a murder spree among teenagers are Willa Fitzgerald ("Alpha House," "Royal Pains"), Amy Forsyth ("Torment," "Reign"), John Karna ("Premature," "The Neighbors"), Carlson Young ("Key and Peele," "The Kroll Show") and Amadeus Serafini.
Willa Fitzgerald as EMMA DUVAL – a classic beauty whose looks and popularity hide a natural shyness and intellectual nature. Her new life with the "in crowd" leaves her estranged her from childhood best friend Audrey.
Amy Forsyth as AUDREY JENSEN – the daughter of a Lutheran pastor, Audrey is an artsy loner who aspires to be a filmmaker.
John Karna as NOAH FOSTER – creative computer genius with a vast knowledge of pop culture and the tech world. Best friends with Audrey.
Carlson Young as BROOKE MADDOX – charismatic leader of the popular crew whose personality vacillates between bubbly sweetness and ferocious sex appeal.
Amadeus Serafini as KIERAN WILCOX – the mysterious new kid in town, Kieran's got a dark side and a tough exterior that hints at experience beyond his years.
"We are excited to be in business with the formidable Weinstein brothers," said Susanne Daniels, MTV's prez of programming. "MTV is the perfect network to bring this consistently surprising film to life on television."
Jill Blotevogel (ABC Family's "Ravenswood") is serving as showrunner on the pilot and exec producing with the Weinsteins, Craven, Marianne Maddalena and Cathy Konrad.
" 'Scream' has been one of our largest and most treasured franchises at Dimension and we are thrilled to embark on the next chapter and join forces with a network that we love," said Bob Weinstein, co-chairman of Weinstein Co. and Dimension Films.
The series is said to center on a YouTube viral video gone wrong, which leads to adverse repercussions for teenager Audrey Jesen and will also serve as the "catalyst for a murder and opens up a window to the town's troubled past."