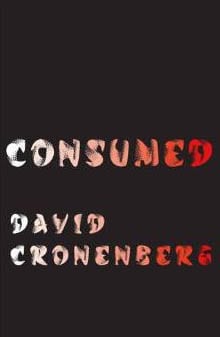 CONSUMED by David Cronenberg
Published on 9th October 2014
Available from Amazon and The Book Depository
Couple Naomi and Nathan are both photojournalists who travel the world looking for their next big article. Nathan is a medical photojournalist whilst Naomi focuses on crime. The grisly, cannibalistic death of high profile philosopher Celestine Arosteguy in Paris leads Naomi on the trail of Celestine's husband and prime suspect, Aristide, who's hiding in Tokyo, Japan. Meanwhile in Hungary, Nathan is documenting a new and obscure treatment for a terminally ill cancer patient which involves inserting radioactive pellets into the breasts. After a fling with the patient, Nathan discovers he has contracted an 'extinct' STD called Roiphe's disease and visits Dr. Roiphe in Canada to find out more, which leads him to unexpected revelations.
CONSUMED is director David Cronenberg's debut novel and it will come as no surprise to his fans that the book features body horror, a genre which Cronenberg is synonymous with. This is one of many themes the story tackles, including politics, philisophy, crime, consumerism and sex.
Each of the characters in CONSUMED are obsessed with technology. Nearly every Apple product going is mentioned in the novel, from the iPhone to the Apple MacBook Air, as well as descriptions of various gizmos including a Nikon DSLR, a variety of lenses, voice recorders and compact cameras. The characters of Celestine and Aristide Arosteguy comment on consumerism, or are at least are referred to have done, which leaves a sense of irony that the book be so descriptive about these high tech gadgets.
Despite my love for Cronenberg as a director, I struggled to get into this, his first novel. The writing is pretty loose and disjointed, swapping and changing characters between Nathan and Naomi often that it is hard to keep track. The descriptions of characters, thoughts and feelings are pretty bare compared with other authors, with the story flowing too quickly that as soon as I'd read a sentence, I'd forget exactly what I'd just read. Because of this, the story failed to keep my attention and I found my mind wandering as I attempted with real effort to read the pages. In some instances, I even had to re-read lines, even paragraphs.
At 284 pages, the book feels too short but also far too long. The story comes to an abrupt, unsatisfying end, which leaves many questions hanging in the balance whilst only answering the initial ones. It's as though Cronenberg decided to end a story mid-way through, like a television series that is axed mid-season due to low audience ratings. The plot itself never really gets going and struggled to keep me engrossed, though the style of writing doesn't help, as aforementioned. In addition to the loose style, one of the main characters, Aristide Arosteguy, witters on in philosphical rants that I found hard to understand. If you're a philosophy student, it may be easy to digest but for someone with no knowledge or interest in philosophy, this aspect went straight over my head. Similar to this, there was a large emphasis on the way in which characters Naomi and Nathan used their digital SLR cameras, describing in detail the specific lenses and how they would set up the shot and alter the aperture to a specific setting to gain a desired effect. Once again, I'm completely oblivious to the inner workings of photography besides from point and shoot, so the techno-babble was just that, which further added to the struggle of 'enjoying' this book. My main issue with the novel though was that the entire plot is pretty much revealed all in one go by one the characters towards the end of the book, leaving nothing for the reader to discover.
Despite praise from the likes of horror author Stephen King and writer and director J.J. Abrams, I don't feel that David Cronenberg's style transfers well to literature, at least not with Consumed. A mish-mash of ideas with a less than gripping narrative, weak characters and plot leaves a bitter taste, both during and after.
Rating: