Devil's Tower (2014)
Directed by: Owen Tooth
Written by: Adam J. Marsh
Starring: Frances Ruffelle, Jason Mewes, Peter Barrett, Roxanne Pallett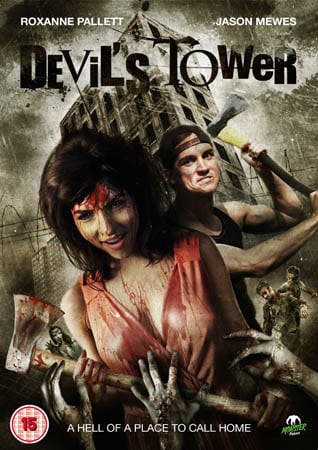 DEVILS TOWER (2014)
Directed by Owen Tooth
After her abusive mother throws her out of the family home, 18 year old Sarah secures a flat at the grungy Albion Court high rise apartment building. Attempting to make the best of a bad situation, Sarah starts to build a new life for herself but with mysterious deaths occuring in the building and with druggies, squatters and burglars loitering around, Albion Court is far from the peaceful haven she's looking for. Though the living are the least of her problems…
DEVIL'S TOWER is a low budget, British horror comedy featuring Emmerdale's Roxanne Pallett as Sarah and Jay and Silent Bob's Jason Mewes as friendly squatter Sid. For the majority of the film, the focus is very much on Sarah and her living arrangements following the abuse with her mother. The fact that numerous deaths occur within the building doesn't seem much of an issue to the building's caretaker Mr Carnacki (Eddie Webber) and though it disturbs Sarah, it doesn't scare enough to leave. Only when the last 15 minutes of the film turns the slow-moving horror comedy drama into a zombie survival flick do the characters actually fear for their lives whilst opening a can of whoopass carnage onto the ravenous undead.
Roxanne Pallett's character Sarah is a quiet young woman who must find her own voice and stand up on her own two feet after her abusive mother (Frances Ruffelle) throws her out. Albion Court is hardly the place to do this, but she soon makes friends with Lucy (Emma Buckley) and spiritual, rampant neighbour Kate (Jessica-Jane Stafford), who gets up to all sorts of late night activity with boyfriend Marc (Brit indie film regular, Simon Barrett). Jason Mewes' appearance only helps to boost the film's prospects with his cheeky, likable character Sid who accidentally breaks into Sarah's flat with his partner in crime Paul (Jazz Lintott). Hot on their tails is the apartment building caretaker Carnacki (Eddie Webber), who's dry sense of humour and penchant for perving over the CCTV surveillance will raise a smile.
The script for DEVIL'S TOWER isn't the best and neither are the perfomances. More often than not, the film struggles to convingly portray its characters and their predicaments but, in a strange way, this approach works as part of its cheesy charm. A weird sub-plot involving some sort of 'movie direction' taking place within the building only serves to confuse matters and never really coherantly explains itself, even by the end scene. Overlook this part of the plot and there's a bit of fun to be had here, as the cast look as though they had some right laughs shooting the film.
Blood and guts wise, there's not really much to see for the majority of the movie. Little bits and shown here and there when necessary but more of the red stuff is revealed in the last 15 minutes, though it's pretty tame as far as horrors go. Instead, there's copious amounts of shagging going on that will end up making you laugh, as well as the obligatory jugs shot, though this is counter-balanced by showing a guy with a stiffy, even if it's concealed within a pair of boxer shorts.
DEVIL'S TOWER is not for those looking for hardcore horror or major laughs, but for those who appreciate the low budget type horror comedy affair that shows a lot of heart and entertains in its own unique way.
Rating: