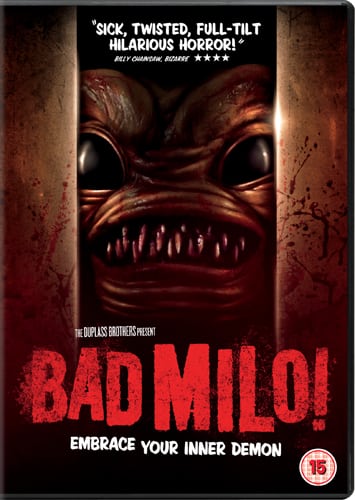 For over a century, Hollywood has been scaring audiences around the world with its terrifying monsters…but none as terrifyingly funny as BAD MILO!, available on DVD on 20th October from Sony Pictures Home Entertainment. Ken Marino (We're the Millers, Wanderlust) and Gillian Jacobs (TV's "Community," The Incredible Burt Wonderstone) star in this shockingly original horror comedy about a man named Duncan (Marino) who discovers he has an actual pint-sized demon living inside him. In order to keep it from popping out and murdering anyone who angers him – including his sweet but pressuring wife (Jacobs) – Duncan must learn to embrace his inner demon and control its killer appetite!
Co-starring Patrick Warburton (TV's "Rules of Engagement," Ted), Mary Kay Place (It's Complicated, Sweet Home Alabama), Stephen Root (TV's "King of the Hill," Office Space), and Peter Stormare (The Big Lebowski, Fargo), BAD MILO! first entertained audiences as an "Official Selection" at the 2013 SXSW Film Festival, where critics hailed it, "A cult classic in the making!" (Inkoo Kang, Los Angeles Times). Now, movie fans around the world can experience the outrageous horror and humour of BAD MILO! on DVD, plus hours of frighteningly fun bonus features.
BAD MILO! was directed by Jacob Vaughan and co-written by Vaughan and Benjamin Hayes. It was produced by Adele Romanski, Gabriel Cowan and John Suits. Executive producers are Mark Duplass, Jay Duplass, John Norris, Kerry Johnson, Dallas Sonnier, Jack Heller, Clay Floren and Aimee Shieh.
Duncan's (Marino) life is a real pain in the ass. Tormented by a manipulative, crooked boss (Warburton), a nagging mother (Place), a deadbeat new age dad (Root), and a sweet, yet pressuring, wife (Jacobs), his mounting stress starts to trigger an insufferable gastrointestinal reaction. Out of ideas and at the end of his rope, Duncan seeks the help of a hypnotherapist (Stormare), who helps him discover the root of his unusual stomach pain: a pintsized demon living in his intestine that, triggered by excessive anxiety, forces its way out and slaughters the people who have angered him. Out of fear that his intestinal gremlin may target its wrath on the wrong person, Duncan attempts to befriend it, naming it Milo and indulging it to keep its seemingly insatiable appetite at bay.
BAD MILO! has a run time of approximately 80 minutes and is rated 15.
DVD Bonus Material:
• Outtakes
• Deleted and Extended Scenes
o 'Extended dinner with the family'
o 'Veterinarian'
• Featurettes
o 'Alternate Takes Milo and Ralph Puppeteers'
o 'Alternate Takes Milo Raw Take'