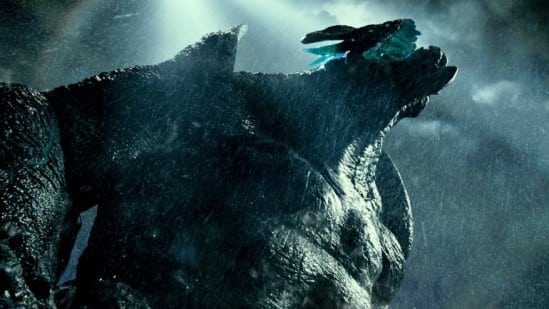 Back in June it was finally confirmed that Pacific Rim 2 was happening, with Guillermo del Toro returning to direct. It was also confirmed that an animated series would fill the gap until Pacific Rim 2 smashes into cinemas on 7th April 2017. All the details revealed so far on the animated series, and Pacific Rim 2 can be found below.
However, del Toro has already begun talking about his plans for Pacific Rim 2, and he told Collider that the first draft was done, and he even revealed when the highly anticipated sequel is going to go into production:
"We got the first draft of the movie now, and we are going to spend another 4-5 months on the screenplay before we start pre-production. We start pre-production next year in August-September and start shooting November-December next year."
This is exciting news, but what's even more exciting is del Toro's plans for a third Pacific Rim movie, which confirms what he had promised from the very beginning, that Pacific Rim would indeed be a trilogy. Del Toro revealed plans for some characters, and how the second film will lead into the third:
"Some of your favorite characters come back, some others don't, because we have decided that we're going to shoot ambitiously and say 'Let's hope we have three movies, so some characters come in at the end of the second, hoping that it will ramp up on the third one."
Naturally the returning characters have not been confirmed, but the fact that Pacific Rim 3 is already being talked about makes me very happy indeed. The interview del Toro gave Collider can be found here.
Also tonight an unofficial Pacific Rim 2 piece of artwork has appeared on the Pacific Rim Facebook page, and its really cool and has a hint of creepiness about it. As no Kaiju or Jaegar's have been designed yet for the sequel, the below artwork would make a strong tease for the upcoming film, and considering how long we have to wait for it, the artwork could serve as a nice reminder that giant monsters will battle giant robots again in the near future.
Ever since Guillermo del Toro's giant Jaeger robots battled the mighty Kaiju, fans have been crying out for a sequel. Pacific Rim was made on a budget of $190 million, and after promotional costs the film just managed to break even by taking $411 million at the worldwide box office. A sequel was not immediately approved, and since the films release, Warner Brothers and Legendary, who were the studios behind Pacific Rim, have split.
Legendary took over the sequel with Universal, and now they have come to a decision, and plan to release the film on April 7th 2017.
Del Toro spoke of his delight to Buzzfeed, and also hinted at some returning characters:
"The characters I love will return. Raleigh, Mako, Newt, Gottlieb and who knows, maybe even Hannibal Chau – but we are taking them into a fresh territory that will display amazing sights and battles. The first film set the stage and now we're ready to have a blast"
Del Toro announced that he was working on the script to the sequel with Zak Penn. Legendary's Thomas Tull and Jon Jashni once again produce alongside del Toro, Mary Parent and Callum Greene. Jillian Share will exec produce.
Pacific Rim 2, which will be released in 3D and Imax, is the first title to land on the April 7, 2017 date.
No details have been revealed apart from the release date, but Legendary shared Del Toro's enthusiasm, releasing a statement:
Guillermo del Toro returns to direct Legendary Pictures' PACIFIC RIM 2, the next chapter of the epic action-adventure he created with 2013's hit original film. Zak Penn will write the script with del Toro. Legendary's Thomas Tull and Jon Jashni once again produce alongside del Toro, Mary Parent and Callum Greene. Jillian Share will executive produce. Universal Pictures will release the film worldwide in 3D and IMAX 3D.
Del Toro has also posted a video to Legendary's Youtube channel, and in it he states:
"From now until April 2017 we are going to develop a new animated series for Pacific Rim that will continue the storyline of the Year Zero comicbook series, and most importantly creating a sequel for the film. I'm working on this with Zak Penn and Travis Beacham and we're all very happy to be bringing you more Kaijus and Jaegers kicking each others butt!"