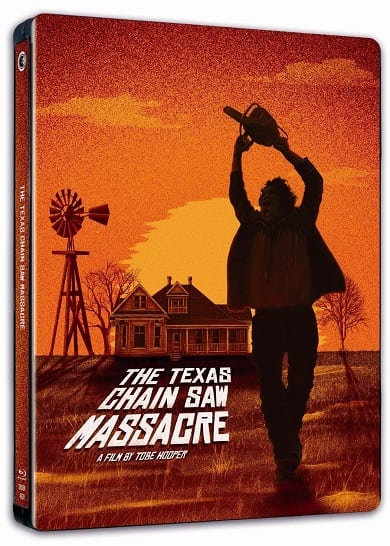 The Texas Chain Saw Massacre not only changed the face of horror in 1974 but still remains one of the most shocking, powerful and terrifying films ever made. To celebrate its 40th Anniversary, a brand new restored version comes to Blu-ray courtesy of Second Sight and we have a brand new trailer to share with our readers!
Widely banned on release, its notoriety has not diminished and this harrowing tale of a depraved Texan clan and its chain-saw-wielding icon of horror Leatherface continues to stun and disturb audiences like no other film.
Supervised by director Tobe Hooper, The Texas Chain Saw Massacre has received a stunning 4K restoration and 7.1 audio mix, looking and sounding like never before. The film will be released as a two-disc limited edition Steelbook blu-ray with brand new artwork created by Doaly and stacked with brand new bonus features, a standard two-disc Blu-ray, with reversible sleeve featuring the new artwork and the original U.S. poster artwork will also be available, on 17 November 2014.
BRAND NEW BONUS FEATURES INCLUDE:
· New audio commentary with Director Tobe Hooper
· New audio commentary with Cinematographer Daniel Pearl, Sound Recordist Ted Nicolaou and Editor J. Larry Carroll
· 'Cutting Chain Saw' with Editor J. Larry Carroll
· 'Grandpa's Tales' with actor John Dugan
· Horror's Hallowed Grounds
· New deleted scenes/outtakes
Additional bonus features:
– Audio commentary with Tobe Hooper, Actor Gunnar Hansen, Cinematographer Daniel Pearl
– Audio commentary with Actors Marilyn Burns, Allen Danziger, and Paul A. Partain and Production Designer Robert Burns
– The Shocking Truth documentary plus outtakes
– Flesh Wounds – Seven Stories of The Saw
– Off The Hook with Teri McMinn
– The Business of Chain Saw with Production Manager Ron Bozman
– A Tour of The TCSM House with Gunnar Hansen
– Tobe Hooper interview
– Kim Henkel interview
– Deleted scenes and outtakes, trailers, TV and Radio spots