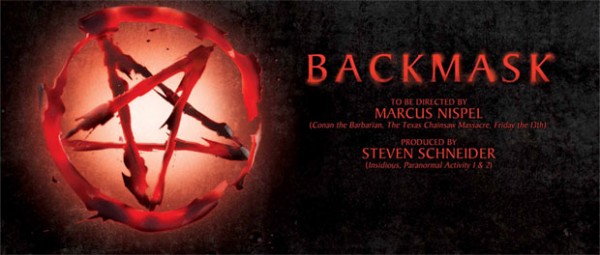 The opening credits to Marcus Nispel's forever coming horror, Backmask, have been released today, indicating that the release is getting ever closer.
The film was completed two years ago, and since then we have been teased with a number of images, but today we finally get to see a small amount of footage, and I muse say the opening credits are pretty intense. Check them out below.
Backmask is co-written and directed by Marcus Nispel. The film is also co-written by Kirsten Elms and produced by Steven Schneider (Insidious, Paranormal Activity, The Lords of Salem, The Bay) along with Terry Douglas and Paris Kasidokostas Latsis. The cast includes Brittany Curran (The Uninvited), Gage Golightly, Stephen Lang (Avatar, Conan the Barbarian, "Terra Nova"), Kelly Blatz (Prom Night, From Within), Brett Dier, Nick Nicotera (Bitten), Nick Nordella (Greenberg) and Michael Ormsby (The Brothers Solomon)
Synopsis:
During a sex, drugs, and rock-fueled party, six small-town teenagers find an old vintage record and decide to play it backwards in order to listen for any subliminal/satanic messages. Lo and behold, a seemingly malevolent spirit quickly infiltrates the group, wreaking havoc as it moves from one body to another. Eventually, however, it's revealed that the spirit in question is actually trying to convey a message….and that the real source of horror isn't particularly paranormal, but rather something (or someone) much closer to home.