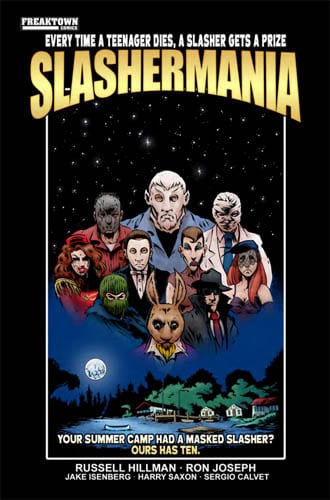 A Kickstater crowdfunding campaign has been launched for Freaktown Comics' new horror tale SLASHERMANIA.
The target to reach is £13000 with rewards in exchange for pledges including PDF and book copies of the comic, as well as t-shirts and original art. So if you're a fan of slashers, you'll want to check SLASHERMANIA out. Hell, it's not got 1 killer, it's got 10!
1983. Troubled teens from New York and Los Angeles are taken to a summer camp facility to be trained as counsellors and mix safely with other people their own age. Little do they know they are being watched by an audience hungry for sex & violence. They are the designated victims for a bizarre contest of murder and mayhem – WELCOME TO SLASHERMANIA!
Masked maniacs from across the USA, Canada, Italy & the UK compete in various categories:
Best Male Solo Death! Best Female Solo Death! Coitus Interruptus! Sin Punishment!
Most Creative Kill! Biggest Multiple Death! The coveted Slasher of the Year award!
"And the slashie goes to…"
Slashermania is written by Russell Hillman, with pencils by Ron Joseph, inks by Jake Isenberg, colours by Harry Saxon and letters by Sergio Calvet