LFO (2013)
Directed by: Antonio Tublen
Written by: Antonio Tublen
Starring: Ahnna Rasch, Izabella Jo Tschig, Patrik Karlson, Per Löfberg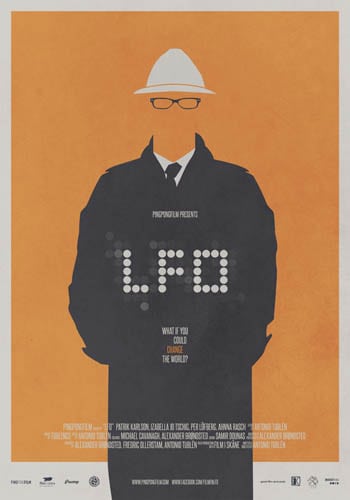 LFO (2013)
Written and directed by Antonio Tublen
Swedish language with English subtitles
Screened at Grimmfest 2014
Robert experiments with sound equipment and frequencies. He questions whether a frequency exists that can be heard subconsciously and be used to control people, similar to being hypnotised. Having found that very frequency, Robert decides to test it out on his neighbours. What starts out as a trial soon becomes an obsession as Robert gives in to his desires and forces his unknowing neighbours to obey his every command…
LFO is a dark, sci-fi, comedy drama which focuses on a man named Robert who finds he can play God by abusing the power of sound. The arrival of new neighbours make them the perfect guinea pigs for his discovery. His initial tests have him discovering the capabilities of the frequency, though Robert quickly realises the potential as he introduces requests to satisfy his carnal needs.
Most of the action, if not all of it, is based inside the home of Robert. The environment is very claustrophobic at times and almost acts as a prison when Robert is controlling his victims. That's not to say that the character of Robert is criminally evil, in a kidnapper or murderer way, but he does become quite selfish and gives in to his personal desires without any thought on the effect it'd have on the lives of his helpless neighbours, couple Linn and Simon. In this instance, his crimes are morally wrong, taking away the power of free will.
Patrik Karlson does a tremendous job as Robert, playing him as likable but out-of-touch with reality at the same time. He makes the character easy to watch, which is helped by the comedy of the movie and the script for the character, but the audience does not condone what Robert does within the movie. We, the viewer, are practically voyeurs to Robert's experiments and as time goes on, the bitter, lonely man becomes more and more experimental that he actually begins to think outside of the box. Izabella Jo Tschig stars as Linn, Robert's attractive neighbour, and Per Löfberg stars as her boyfriend Simon and both convince in their roles, constantly having to switch from being aware of their own decisions to following Robert's orders. Some of the actions Robert commands them to do are amusing, like cleaning his windows, whilst others are warped and morally wrong. Constantly pushing the boundaries of his discovery, Robert realises he can't always fix everything wrong in life… or can he?
Beautifully shot with an impressive cast, LFO is a slick slice of intelligent, explorative sci-fi with a unique idea that will engage the viewer throughout its running time whilst also giving them a fair old giggle.
Rating: