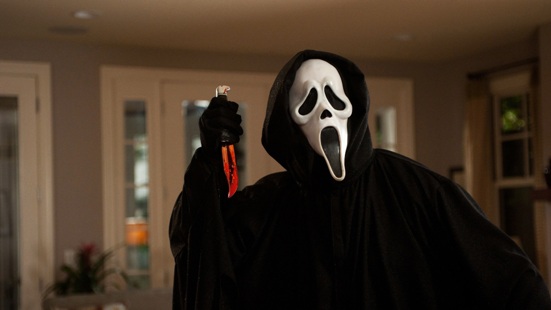 The last piece of news we heard regarding MTVs Scream series was that Ghostface may not even appear in it, casting huge doubts over the series. However, EW caught up with MTVs Senior Vice President Mina Lefevre, who added a new twist in the Scream TV series tale.
Lefevre says the Ghostface mask WILL make an appearance, but they are still working on the details. She explained that the new mask will not be like the movie series mask, and will be more "organic". EW explain that this means the mask is likely to be made out of human flesh!
Here is what Levefre said about the Scream series:
"Scream was incredibly iconic, but we wanted to reinvent that for TV while of course keeping all the main elements that made it so iconic, including a mask, but also the soapy teen stories, pop culture humor, the scares and the killer. We're tonally walking that line, yet delivering the scares in a significant way. The mask was a big discussion creatively. We wanted to get a nod and a wink to what the original was, but we definitely wanted to make it more on par with what horror is now, which is darker."
Essentially Scream was meant to be violent, scary and fun, yet the new series appears to be planning on taking the fun out, and heading down a much darker route:
"It's a darker, almost more grounded, evolved version of the mask. It's something we're constantly talking about. How did that mask become that mask? What's its purpose? How did it evolve? If the Scream movie mask was the more plastic version, for a lack of a better description, this one is a more organic looking and frankly darker version."
She then hinted that the original mask may make an appearance:
"It's a little preliminary, obviously because we haven't even started our writers room, to say that we will never see that other mask or not."
Willa Fitzgerald will star as Emma Duvall, a classic beauty whose looks and popularity hide a natural shyness and intellectual nature. Her new life with the "in crowd" leaves her estranged from her childhood best friend, Audrey. Emma is the lead in MTV's Scream take and bears a resemblance to Neve Campbell's tortured high school student Sidney Prescott in the 1996 feature film.
Taylor-Klaus, who has been recurring on The CW's Arrow as DC Comics character Sin and whose credits also include The Killing and House of Lies, will replace Forsyth in role of Audrey, the daughter of a Lutheran pastor. She's described as an artsy loner who aspires to be a filmmaker.
Bobby Campo (The Final Destination) will recur as Seth Branson, a hot English teacher at Lakewood High who has an easy charm and is clearly one of the "cool" teachers, who can go with it if a lesson plan gets a little off-track.
Connor Weil (Sharknado) will be a series regular and portray Will Belmont, an all-American high school basketball player who adores his girlfriend, Emma (Fitzgerald).
Joel Gretsch (Witches of East End, V, The 4400) is set as Sheriff Clark Hudson, a good guy and good sheriff who is father to Kieran (Amadeus Serafini). David Arquette famously portrayed the lovable sheriff in Williamson's features.
It has also been confirmed that Bex Taylor-Klaus will replace Amy Forsyth.
Variety confirmed that Jamie Travis, director of For A Good Time, Call… plus episodes of Faking It, will be directing the pilot.
Thesps cast in key roles for the reboot of the Wes Craven film franchise about a murder spree among teenagers are Willa Fitzgerald ("Alpha House," "Royal Pains"), Amy Forsyth ("Torment," "Reign"), John Karna ("Premature," "The Neighbors"), Carlson Young ("Key and Peele," "The Kroll Show") and Amadeus Serafini.
Willa Fitzgerald as EMMA DUVAL – a classic beauty whose looks and popularity hide a natural shyness and intellectual nature. Her new life with the "in crowd" leaves her estranged her from childhood best friend Audrey.
Bex Taylor-Klaus replaces Amy Forsyth as AUDREY JENSEN – the daughter of a Lutheran pastor, Audrey is an artsy loner who aspires to be a filmmaker.
John Karna as NOAH FOSTER – creative computer genius with a vast knowledge of pop culture and the tech world. Best friends with Audrey.
Carlson Young as BROOKE MADDOX – charismatic leader of the popular crew whose personality vacillates between bubbly sweetness and ferocious sex appeal.
Amadeus Serafini as KIERAN WILCOX – the mysterious new kid in town, Kieran's got a dark side and a tough exterior that hints at experience beyond his years.
"We are excited to be in business with the formidable Weinstein brothers," said Susanne Daniels, MTV's prez of programming. "MTV is the perfect network to bring this consistently surprising film to life on television."
Jill Blotevogel (ABC Family's "Ravenswood") is serving as showrunner on the pilot and exec producing with the Weinsteins, Craven, Marianne Maddalena and Cathy Konrad.
" 'Scream' has been one of our largest and most treasured franchises at Dimension and we are thrilled to embark on the next chapter and join forces with a network that we love," said Bob Weinstein, co-chairman of Weinstein Co. and Dimension Films.
The series is said to center on a YouTube viral video gone wrong, which leads to adverse repercussions for teenager Audrey Jesen and will also serve as the "catalyst for a murder and opens up a window to the town's troubled past."