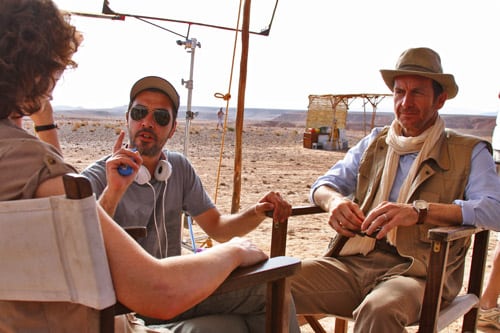 With horror film THE PYRAMID hitting UK cinemas today (5th December 2014), we were pleased to interview the director of the movie, Gregory Levasseur, who takes the directing reigns for the first time after years of film writing, producing and 2nd unit directing.
Where did the idea come from to make The Pyramid?
The idea comes from Scott C. Silver, one of the producers. He loves Egypt and he read an article about these archaeologists who tried to discover a new site, an unknown site through a satellite. In the story they will discover this three-sided pyramid buried in an Egyptian desert. And basically, Daniel and Nick wrote a draft on it and that's where it all began.
What made you choose to film The Pyramid as a found footage/hand-held style movie and what do you think that style can bring to the film?
It made it creepier if we didn't have the front footage. So, the handheld camera was decided from the first take. There are a lot of found footage movies, and some of them are really well made, but that's something I didn't want to do for a first film. I needed to get inside the story. I needed to be close to those characters and give this a documentary aspect. I agree that found footage was the best because we live in a digital time. You are inside the character, and you're not following the other films, you do what you want. And I love it. That's what really spoke to me. The idea of shooting hand-held and being very close to the character was the kind of movie that I wanted to make. I knew that the idea of only going hand-held, you could shoot much faster. So, you don't have to set up a crane or like traveling tracks. So, you know, for me, it's more efficient visually.
With a film like this, CGI effects were no doubt used, but did you use any prosthetic effects on the film?
We used just prosthetics for one of the creatures. At first, I said I don't know how to do this, but if you really could use prosthetics, I would be very happy. It was pretty cool, and I was very happy also to have seen it, and to show the actors how it looks. We didn't use prosthetic for the whole creature. We knew that the character would be CGI. But it was important that the actors, to have at least its head. So we took his head, which was on a stick basically. The front, and the side, and everything. We were walking on the set in Egypt with it, and saw how it looks on that set.
Which scene was the most challenging to shoot?
When they are running against the sand that was really complicated because there were a lot of things going on, and the actors are doing their own stunts. They don't have stunt doubles, I do not like stunt doubles for that. They are really inside this scene. I mean can you imagine? I've got so many people in this corridor just throwing buckets of sand on them. So it was like a huge organisation, to set up again – the reset. That was huge, and it – I think – went very very well. I was very surprised. The other one that was very difficult, and maybe even more difficult creatively, it's the last part, when they are trying to exit the pyramid on the ladder. I just had like a six-meter high shaft. I had to play with what little I had. But imagine when you have something only six-meters high. You have one actor here, and you put the camera guy there – I mean the operator – and you shoot out of a digital shot. So to give the feeling of the time and the movement was really really tricky. I had to really play with all the cinema techniques, and all the lights, and darkness and everything. That was successful.
You're a long-time collaborator with Alexandre Aja. How is it working with him and how much influence did Alexandre have over the film?
It was great. We had the chance to have a good long prep, and that was a big thing because we had the green light from the studios, and it's was either this or the production schedule for Horns. And it happened that both movies started exactly the same time. So, we were unlucky on this one, to not be able to work together on principal photography. But because we had this long prep and, we know each other so well, at the end, it's like we managed to keep the collaboration, even though we weren't together.
Will you continue with the horror genre for your next project?
For me, horror – it's like a big genre. It's like there are a lot of new approaches inside the job. I love these movies, you know? I love movies in general. I'm not stuck with just one kind of job. You should watch my work with Alex, we always try to do something different from the other movies. From High Tension to The Hills Have Eyes to Mirrors to Piranha 3D to Maniac to The Pyramid. I don't see The Pyramid as just like a simple horror movie, I think it's more than that. There is adventure, and action. There is suspense. There is irony that you feel from the characters and the situation.
Thank you Gregory for your time.
THE PYRAMID is in UK cinemas now!