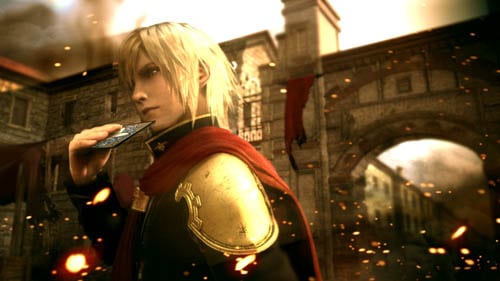 With the launch of FINAL FANTASY TYPE-0 HD in Europe and PAL territories just a few months away, Square Enix Ltd., today released a brand-new trailer that showcases the in-game world players can experience in the upcoming title.
The trailer, titled "The World at War," features the world of Orience as four powerful nations threaten to tear the land apart in a brutal global war. Marshall Cid, of the Milites Empire, leads the assault as he initiates a campaign to justify the Empire's actions and to discredit Class Zero, the Dominion of Rubrum and other war-torn nations.
FINAL FANTASY TYPE-0 HD will be available on PlayStation®4 and Xbox One across Europe and PAL territories on 20th March 2015. Purchases of FINAL FANTASY TYPE-0 HD will also include an exclusive, downloadable playable demo of the highly anticipated FINAL FANTASY XV – titled 'FINAL FANTASY XV -EPISODE DUSCAE'. The demo will be included with FINAL FANTASY TYPE-0 HD for a limited time, and will be available while stocks last.