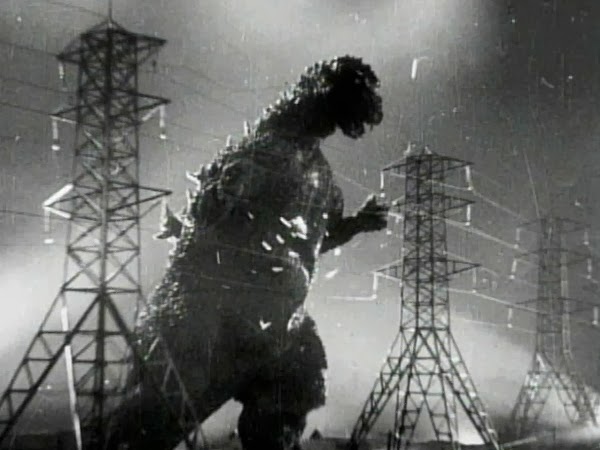 There's been the odd rumours of a proposed sequel to the 1971 Godzilla Vs Hedorah which seem to have turned to be just its director saying he wants to make said film, but now it's official – Japan's Toho Studios, who first brought Godzilla to the screen in 1954 and created one of the longest franchises lasting till 2004's Godzilla: Final Wars, are going to make another Godzilla picture! After the disappointing box office takings of Godzilla: Final Wars and what appeared to be Godzilla's decreasing popularity, Toho stated they weren't going to make any more Godzilla films whatsoever.
That was then though. Now response from fans and general audience members about Gareth Edwards' American-made Godzilla was mixed [I thought it was rather flawed in some areas, but enjoyed it overall and thought it wiped the floor with that awful Roland Emmerich travesty], but the film was a considerable hit and a sequel, a multi-monster mash which sounds like a semi-remake of the 1964 Ghidorah The Three-Headed Monster, is going to be made for release probably in 2018. Fans should give it some love just because its success seems to have spurred Tokyo to resurrect the King Of The Monsters. Veteran producer Taichi Ueda is heading up the new project at Toho studios, intended for a 2016 release. Toho has launched the Godzilla Strategic Conference (Godzi-Con) – a committee aiming to reboot the Godzilla brand. He said to reporters, according to Variety:
"The time has come for Japan to make a film that will not lose to Hollywood. Toho hopes to make Godzilla a character that will represent Japan and be loved around the world by the time of the 2020 Tokyo Olympics".
How exciting is this for fans? There could soon be not just one but TWO separate Godzilla series' for us to enjoy! My only slight concern is that Toho have said that innovations in computer technology are another factor behind its decision. The CGI used to create the 2014 Godzilla was very good – he really seemed like a living, breathing animal – but I feel that a Japanese Godzilla should always be a man in a suit. It's cultural and part of its charm. Still, the CGI could be more for enhancement, we just don't know. It's early days yet, and Toho have still to pick a director.