Tales of Terror (1962)
Directed by: Roger Corman
Written by: Richard Matheson
Starring: Basil Rathbone, Maggie Pierce, Peter Lorre, Vincent Price

USA
AVAILABLE ON BLU-RAY: Now, from ARROW VIDEO in their Six Gothic Tales boxset. Released as a stand-alone Blu-ray March 9th

RUNNING TIME: 89 min
REVIEWED BY: Dr Lenera, Official HCF Critic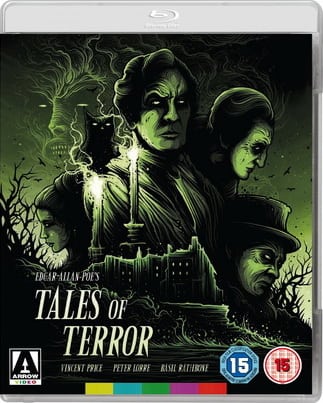 Three stories adapted from the work of Edgar Allen Poe. Lenora Locke visits her father in his decrepit and cobwebbed mansion and not only finds him drunk, disordered, and depressed but he insisting that she killed her mother Morella in childbirth. Montresor Herringbone, who hates his wife Annabelle and her black cat, challenges Fortunato Luchresi the local wine-tasting champion to a competition, but finds the man paying rather too much attention to his wife. And, dying from a painful disease, M. Valdemar employs a hypnotist, Mr. Carmichael, to alleviate his suffering by putting him under various trances, and who decides to hypnotise him at the point of death….
The 1960's were a good time for horror anthologies [which tentatively seem to be coming back in fashion, with even two Edgar Allan Poe ones], with Mario Bava's extraordinary Black Sabbath [released and re-edited in the US by American International, the studio behind all the films in the Six Gothic Tales boxset we are ploughing through here on HCF], and the first of several British efforts from Amicus Dr. Terror's House Of Horrors being perhaps the best, but Tales Of Terror is quite close behind them. It does perhaps show up the flaw of the portmanteau format more than the others, the format not really allow the tales to breath unlike the first three films in the Roger Corman/ Edgar Allan Poe series which had a wonderfully languid feel, and therefore had time to work up so much of that morbid, creepy Gothic atmosphere, though neither has writer Richard Matheson had to pad out what are usually very short stories for this one. It remains great fun with each story looking and feeling different despite having similar themes, and I wish Corman had made more Poe films in this manner, though the comic tone of its middle story did encourage Corman to make the next film, The Raven, entirely a light-hearted piece, obviously feeling he had done the moody Gothic thing to death.
This was the fourth of the series, after the Ray Milland-starring The Premature Burial, generally regarded as a disappointment after the glorious The Fall Of The House Of Usher and The Pit And The Pendulum, though it's a decent chiller in its own right and I will review it for HCF at some point soon. Tales Of Terror was initially intended as a serious trilogy of stories until it became that The Black Cat was far too dark and cruel a story to put on screen as Poe wrote it, so Corman and his usual writer Richard Matheson decided to make it lighter and not follow Poe much at all. Shot in just three weeks, Tales Of Terror employed sets mostly left over from other films and re-used shots of a burning barn which Corman had cut into the climax of The Fall Of The House Of Usher. A scene of Price's face melting away was cut to a couple of seconds because the mixture of glue, glycerin, corn starch and make-up poured over his head was so hot that Price could only stand it for that amount of time, though the BBFC still removed the shots for cinema release. In the US Tales Of Terror was sometimes doubled billed with Panic In The Year Zero.
Morella, adapted from a poem with elements also borrowed from Poe's short story [perhaps his best] Ligeia, is perhaps the weakest of the three segments, though that may be partly because it's so similar to The Fall Of The House Of Usher and The Pit And The Pendulum, with an almost identical climax to the former, and a beginning which makes use of a very familiar forest fire-damaged location and a very familiar matte painting of a house! The opening of Lenora wondering around the house has that great Corman/Poe atmosphere is spades, and you really begin to feel the presence of a dead woman like Hitchcock's Rebecca. Successive events don't always make sense, but it's amazing how much simple effects like a person partly superimposed on the picture to represent a ghost can still work, a decomposed corpse provides a good shudder, and it all exudes that necrophiliac feel and obsession with death that so dominated Poe's work. Aided greatly by some of Les Baxter's most atmospheric horror music with eerie use of wordless female chorus and even a forerunner of the Jaws theme, this does seem rather rushed, and a shot of flames behind a matte painting got even this fan of old school effects laughing, but Morella is still more good than bad.
The Black Cat, while loosely based on Poe's compelling, disturbing tale of the same name, actually takes as much from the blackly amusing The Cask Of Amontillado. It seems to be regarded as the weakest of the segments, but I feel it's highly undervalued and works really well, its light tone still just about able to still contain the dark aspects [like a sense of an abusive marriage at the beginning] without the story becoming unbalanced. The highlight is a lengthy wine tasting sequence between Peter Lorre [as Herrringbone], a very convincing drunk throughout, and Vincent Price [Fortunato], who really does ham it up here but entirely appropriately. Lorre, already sozzled, gulps down full glasses in one swig while Price has a tiny goblet and sniffs and swirls the stuff in his mouth. The most visually stylised of the three portions, with unusual scene transitions and a tremendous dream scene with the picture stretched out as Herringbone has his severed head thrown about, The Black Cat also benefits from reasonably elaborate [if re-used] sets reminiscent of the town set constantly re-used in many of Hammer's films. It was partly remade as part of the terrific black horror comedy The Comedy Of Terrors with Lorre and Price virtually swapping roles.
The Case Of M. Valdemar, by far the closest of the three segments to its source, isn't quite as frightening as Poe's story, but it's very strong nonetheless. Set almost entirely in one room, its feeling of claustrophobia enhances the tension, while Daniel Haller's production design is the most striking of the three episodes and is almost as gaudy as in The Fall Of The House Of Usher. It seems that Corman took the most care with this one, though it relies much on the performances, and thankfully they really come up trumps, especially Basil Rathbone who despite being obviously 70 years of age still makes you feel he has the power to hypnotise with that great voice and stare of his. Price's disembodied, echoey voice speaking from beyond the grave is shuddery and almost matches the spine-chilling sensations evoked by Poe's prose if you read it in the right environment, and the climax still comes off because, while a dissolve effect is hardly convincing, the briefly-glimpsed makeup is horrifying and, though the camera cuts away very quickly, your mind is able to fill in what we don't properly see. Baxter's music, in an admirably diverse and complex score throughout the whole film, is very sinister here indeed.
Price is great in each story – he only really camps it in the middle segment and no one does it as well as he – and expertly varies his performances accordingly, while his introductions to each segment set the perfect mood – this is going to be horror, and a little gruesome, and a little morbid – but overall it's just going to be good cosy fun where you can feel free to chuckle as well as shiver. The women, all of whom are far younger than most of the male stars, were mostly cast for their good lucks [but the voluptuous women in these films are so much more interesting and diverse looking than the colourless clones you often tend to get in horror these days], but acquit themselves well enough. Only sometimes revealing its cheapness, Tales Of Terror mostly looks far more expensive than it is and is, bar a few stumbles, another fine effort from the Corman/Poe stable, full of old-school charm, cleverness, and sheer entertainment value. Arrow Video's extras-loaded Blu-ray is slightly grainier than the others in the boxset I have watched so far, though the quality improves with each story, and it's certainly not to the detriment to the film, which still probably looks better than it did at the cinema.
Rating:
SPECIAL FEATURES
* High Definition Blu-ray (1080p) presentation of the feature, transferred from original film elements by MGM
* Original uncompressed Mono PCM Audio
* Optional English subtitles for the deaf and hard of hearing
* The Directors: Roger Corman, an hour-long documentary on the filmmaker featuring contributions from James Cameron, Martin Scorsese and Ron Howard
* Cats in Horror Films, critic and novelist Anne Billson discusses the contributions of our feline friends to genre cinema
* The Black Cat, a 1993 short film adaptation of Poe s classic tale directed by Rob Green (The Bunker)
* Kim Newman on Edgar Allan Poe, the novelist and critic looks at Poe s influence on the big screen
* Original Theatrical Trailer
* Reversible sleeve featuring original and newly commissioned artwork by Dan Mumford
* Collector s booklet featuring new writing by Roger Clark and Rob Green, illustrated with original stills and artwork
The Six Gothic Tales box set from Arrow Films contains:
* Six Edgar Allan Poe movies starring Vincent Price
* 200 pages Collector's book containing new writing on the films
* Interview with Roger Corman
* Extracts from Vincent Price's autobiography
* Full reproductions of tie-in comic books for Tales of Terror, The Raven and The Tomb of Ligeia