Clown (2014)
Directed by: Jon Watts
Written by: Christopher D Ford, Jon Watts
Starring: Andy Powers, Christian Distefano, Eli Roth, Laura Allen, Peter Stormare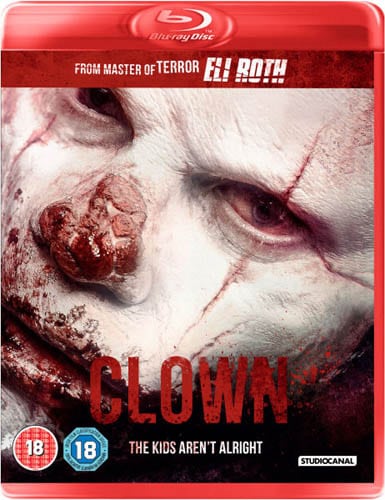 CLOWN (2014)
Directed by Jon Watts
Available on DVD and limited edition Blu-Ray
When the clown he hired doesn't show up for his son's birthday party, real estate agent Kent manages to save the day with an old costume found in a house of a recently deceased elderly gentleman which he's currently selling. With the multi-coloured wig, red nose and full costume, Kent thrills his son Jack and his friends as Dummo the clown.
After the party, Kent gets ready for work, except neither the clown costume, wig or nose will come off. Stuck inside the outfit and with no way to remove the costume that appears to have attached itself to his own skin, Kent begins to undergo changes and develops an insatiable hunger for children.
CLOWN is the current horror on the top of everyone's list to see. Produced by horror visionary Eli Roth, CLOWN plays strongly on the fear of many out there. Instead of most clown horrors which choose to have a killer clown stalking and bumping people off outright, here we have a loving husband and seemingly decent bloke transform into something sinister before his family's very eyes. Noticing the changes he's feeling, Kent (Andy Powers) manages to track down the former own of the costume, Karlsson (Peter Stormare) who reveals the grisly history of the clown and the costume and is the only one who knows how to stop it.
CLOWN is slow-moving at times, which breaks the pace and tension somewhat. I was expecting more gore and action but instead the film opts for more drama than horror, digging deep on the strain on the relationship between Kent and his wife Meg (Laura Allen) and their son Jack (Christian Distefano). When the audience is treated to scenes of horror, it's sometimes hard to decide whether to laugh or be scared, which I suppose represents the idea of clowns in general. However, for the most part, the movie is not that frightening as a whole. That's not to say there aren't scary scenes, because there are. When Karlsson describes the past history and origins of the clown to Kent, as illustrated in his book, it will send shivers down your spine. The most shocking scene that will be remembered from this movie though is where the transformed Kent visits a kids play factory like Chuck E Cheese, a similar version to the UK's Wacky Warehouse, with slides, tunnels and ball pools for the children to play in – the ideal haunt for a predatory clown. I won't say any more so you can discover it for yourself, but this is probably CLOWN's strongest scene.
CLOWN is quite an original idea and has taken a frightening concept to thrill its viewers. With a BBFC certificate 18 though, I expected more gore and child-hungry clown gracing the screen. Though Andy Powers does a great job as kindly Kent and his transformation into the demonic beast, the final incarnation of the clown has nowhere near enough screen time, and when he does appear, it's mainly during mid-transformation where he's struggling to come to terms with the change. Less dramatic thriller, more blood-thirsty killer is what the doctor prescribed but unfortunately not delivered.
CLOWN is an entertaining watch, but as far as killer clowns go, Pennywise still wears the crown.
Rating: