HOUSE ON HAUNTED HILL is to re-released on DVD and Blu-Ray on 9th March whilst and AN AMERICAN WEREWOLF IN PARIS re-released will be coming to DVD on 16th March 2015.

HOUSE ON HAUNTED HILL
How far would you go for a million dollars?
Eccentric millionaire Steven Price invites a diverse group of people to a reputedly haunted mansion that was formerly the site of an insane asylum. Steven offers his guests $1,000,000 each if they can spend the entire night at the old house without fleeing in terror. It sounds simple enough, but when those stories about ghosts haunting the mansion turn out to be true, the guests may no longer opt to stick around…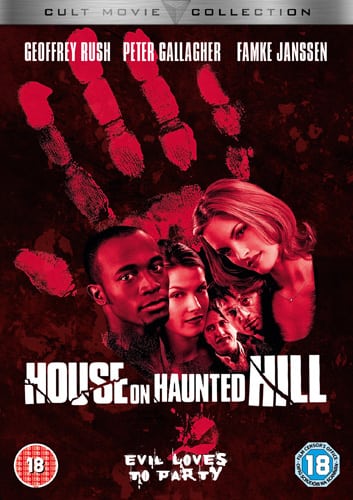 AN AMERICAN WEREWOLF IN PARIS
The daughter of the werewolf from American Werewolf in London is alive and living in Paris where her mother and stepfather are trying to overcome her lycanthropic disease. A trio of American tourists on a thrill seeking trip around Europe manage to stop her from plunging to her death from the top of the Eiffel tower and are embroiled in a horrific but often hilarious plot involving a secret society of werewolves based in the city and a drug which allows werewolves to change at any time… This time there's no need for a full moon…
AN AMERICAN WEREWOLF IN PARIS features new artwork by illustrator Clint Langley (Marvels Guardians of the Galaxy, 2000AD Slaine, ABC Warriors) .