Summer of Blood (2014)
Directed by: Onur Tukel
Written by: Onur Tukel
Starring: Dustin Guy Defa, Jonathan Caouette, Zach Clark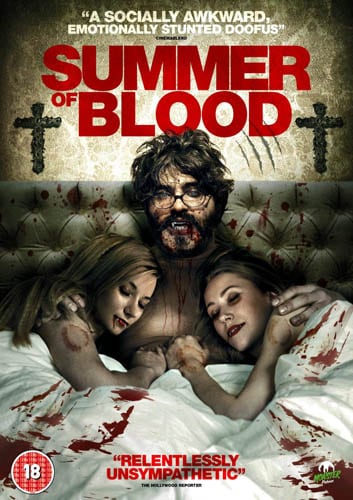 SUMMER OF BLOOD (2014)
Written and directed by Onur Tukel
Lazy, selfish Erik Sparrow has hit rock bottom. After rejecting a marriage proposal from his long-time girlfriend, she's now split with Erik and started dating an old friend. Work's no better with the boss unappreciative that Erik turns up late, leaves early and hardly does any work. So when Erik is bitten by a vampire in the back streets of New York, his luck in life begins to turn around as his sexual prowess increases as does his ability to convince people to do what he says. The only problem? The insatiable need for blood.
Dry comedy horror SUMMER OF BLOOD is a straight-faced, witty vampire tale wrapped in the midlife crisis of one Erik Sparrow. Fearful of everything around him, especially of commitment to his girlfriend Jody, Erik's life is going nowhere and he seems to like it that way, that is until the only thing with any meaning in his life, Jody, leaves him. A string of failed dates and accusations of bad sex further fuels Erik's depressed state of mind, that is until someone gives him a chance to change his life around, albeit with painful side effects if his thirst is not quenched.
Onur Tukel stars as main character Erik, as well as taking the directing, editing and writing reigns of the project – a labour of love, it would seem, created by a small but diligent crew. This tight knit involvement is reflected in the film as the viewer feels as though as we're part of Erik's life and we're with him each and every day, every step of the way – including when he's pleasuring himself to his female co-worker's photograph in the bathroom. Even though he's as stubborn and pessimistic as a mule, Erik is quite a likable character and a very witty one at that. He bounces off the other characters extremely well, particularly his ex Jody (Anna Margaret Hollyman) and her new beau Jason (Jason Selvig).
As well as being a movie focused upon the drama and relationships of Erik, SUMMER OF BLOOD invests in the vampire genre. When Erik is bitten and changes, we see how that affects him as a person and how he decides to control his blood lust. Much like recent vampire comedy What We Do In The Shadows, SUMMER OF BLOOD takes a look at vampire atrributes from a realistic and modern point of view, though Erik's abilities are somewhat limited compared to vampires in other movies. However, there's plenty of blood on display, with the red stuff splurting out on the street and all over the pillows and duvet in the bedroom, from some sick looking wounds. A triumphant success for the FX department.
SUMMER OF BLOOD is a pretty slick comedy horror drama, with a strong lead in the form of Onur Tukel who proves he can multi-task effectively in various areas of filmmaking.
Cleverly written with plenty of laughs and a splash of horrifying moments to boot, SUMMER OF BLOOD is an easy-going, groovy watch.
Rating: