The Killing (1956)
Directed by: Stanley Kubrick
Written by: Jim Thompson, Lionel White, Stanley Kubrick
Starring: Coleen Gray, Jay C. Flippen, Sterling Hayden, Vince Edwards

USA
AVAILABLE ON BLU-RAY NOW, from ARROW VIDEO

RUNNING TIME: 85 min
REVIEWED BY: Dr Lenera, Official HCF Critic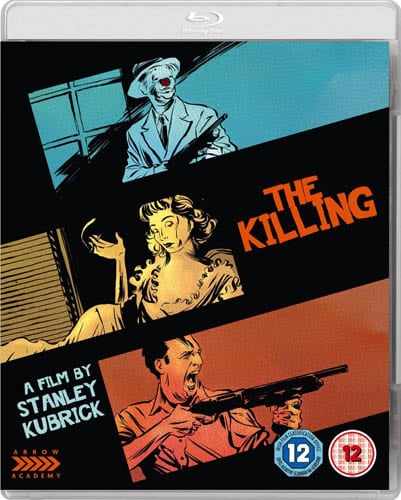 Johnny Clay is a veteran criminal just out of prison who is planning one last heist before settling down and marrying Fay. He plans to rob two million dollars from the money-counting room of a racetrack during a featured race and assembles a team consisting of a corrupt cop, a betting window teller to gain access to the backroom, a sharpshooter to shoot the favourite horse during the race to distract the crowd, a wrestler to provide another distraction by provoking a fight at the track bar, and a track bartender….
Though the obsessive movie fan [I plead guilty to being one] can link many of them both technically [characters shot from both sides of the stage line, close-up shots foreshadowing omens] and thematically [dehumanisation, irony], one of the most fascinating things about the films of Stanley Kubrick is that they tend to exist almost isolated from each other. I reckon it would be quite hard for someone to watch, for example, 2001: A Space Odyssey, Full Metal Jacket and Dr. Strangelove in ignorance of who directed them, and then tell that they were the work of the same filmmaker. The Killing was the first film that Kubrick was reasonably satisfied with, though it's tempting to wonder if it would have the reputation it does if it wasn't from him. Its tightness and economy are somewhat different from the Kubrick that most of us are more familiar with, but help distinguish this riveting taut thriller, and even suggests different pathways which the director might have gone down. I hope that in my review for Killer's Kiss I made a decent case for its quality. The much improved The Killing just confirms that Kubrick was a master of film noir and had a great instinct for it.
Kubrick formed a production company with James B. Harris, Harris-Kubrick Pictures, before making this film. They bought the rights to Lionel White's novel The Snatch, but found out that films were not allowed to be made about the kidnapping of children, the premise of White's potboiler. White subsequently swapped the rights to his novel Clean Break, which had been previously considered by United Artists as a vehicle for Frank Sinatra. The Snatch was later was made into The Night of the Following Day in 1968. Stanley Kubrick initially wrote a script outline for what was initially called both Day Of Violence and Bed Of Fear, then asked writer Jim Thompson to flesh it out with dialogue. The union in Hollywood stated that Kubrick would not be permitted to be both the director and cinematographer of the movie, so veteran lenser Lucien Ballard was hired, though the two men clashed repeatedly. Test screenings cited the non-linear structure of the story as a problem, so Kubrick went back and re-edited the film in a linear fashion, actually making the film even more confusing. The Killing was released in its original form except for the addition of some narration. Amidst complaints about its violence and moral murkiness, UN effectively dumped the film as the bottom half of a double bill with Bandido in the US, and it failed to make much money, but it was the film that truly made Kubrick's reputation and its influence can be seen in many much more recent films, especially Reservoir Dogs.
Indeed it's the way it tells its actually fairly straightforward story that is most interesting about The Killing, even if it wasn't even the first film noir to do this [the astonishing 1946 The Killers, reviewed on here not that long ago, is perhaps the most notable example]. After opening with non-racing racetrack footage, the dramatic music perhaps at odds with the images, we see a man entering a bar, buying a drink and passing a message to a bartender, then going to a cash desk and also passing a message to a cashier. Suddenly we flash back to an hour earlier and witness a conversation between two men in the corner of another bar. One badly owes the other money, and informs him that he has some money coming in and will be able to repay him. Then we cut to another scene of a man saying goodbye to his wife even though he's just spent five years in prison away from her. Even when The Killing gets into its heist, it will still ingeniously show us something, then flash back to a short while before to give us some clarity to what we've just seen. It's easy to see why the fractured timeline from different character perspectives irritated the studio, though the narration, even if one enjoys it as a kind of voice of God, really sticks out, and in a bad way, at least to this critic. Perhaps some on-screen text may have worked better.
In any case, if you ignore the narration The Killing seems very modern and fresh. It's extremely pacy, with not really any wasted footage. Most of its characters are neither good nor bad, just 'grey'. I say most, because The Killing does have one of the most memorably trashy femme fatales of all time in Sherry Peatty, a woman who thinks nothing of, for example, saying a certain man raped her just so she can find out the exact date of the heist. She's a cheating, greedy, totally unscrupulous slut who doesn't really have one good thing about her except her looks, and whose doings [she's not even very clever] both directly and indirectly cause most of the bad things to happen in the story. Kubrick's films are often criticised for lacking heart, but some of that to me is just because he hated sentimentality. The heart in The Killing is provided by Sherry's husband George, who is deeply in love with her. That underrated character actor Elisha Cook Jnr. gives one of his best performances ever as the poor sap who you suspect will eventually cut loose. All the main characters make a strong impression but never at the expense of the film's unrelenting pace. The actual heist, shown in meticulous detail, is as suspenseful as they come and even includes some humour, most notably a bar brawl. The fuss made about The Killing's violence seems a bit odd, though I suppose there is a bit more blood than normal in the shootings towards the end. There's also a scene where one guy actually seems to be in love with another [and it's not portrayed in a bad light either], and another showing some overt racism.
There are some contrived occurrences towards the end of the picture, and especially some unintentional amusement provided by a sharpshooter who is required to shoot a moving target with telescopic sights. Despite supposedly being an expert, he inexplicably parks his sports car, a convertible with the top down, in plain view in a car park so that anyone who is there can see him take out the rifle, aim and fire, then insults a policeman. There are a few instances of poor back projection which Kubrick would certainly not have included if he'd had more money and time, but technically The Killing is still mostly excellent. It's not all 'showy' like Killer's Kiss, where Kubrick seemed to be trying everything he could to make the film visually interesting. The cinematography is more unobtrusive and more in the service of the story and its characters, though it's still very impressive. One superb tracking shot has a man seen through a post office window getting out of his car, walking towards the door and entering as the camera pulls back 'through' the window and carries on going backwards as the man walks to a deposit box.
The cast is mostly made up of veterans of film noir, their roles tending to be variants of ones they had played before, though the script still makes them seem like real people. Sterling Hayden is superb as the perfectionist whose meticulous plans unravel. While it may, despite its ingenious structure, be a simpler and less ambitious picture than even the one that came immediately after it, The Killing may be, after of course Dr. Strangelove, the most sheerly entertaining picture Kubrick ever made. And like all really good heist movies, you so want the protagonists to get away with it, and hope that this and that won't actually happen, even if you've seen the movie before and you actually know exactly what's going to occur. The Blu-ray from Arrow Video, which ports over some of the special features from Criterion's Region A set but substitutes a few with others, has great contrast and definition and looks very good indeed.
Rating:
SPECIAL FEATURES
* High Definition Blu-ray [1080p] presentation of the feature
* Original uncompressed mono PCM Audio
* Optional English subtitles for the deaf and hard of hearing
* Stanley Kubrick's second feature, Killer's Kiss [1955], presented in High Definition [1080p]
* An appreciation by filmmaker Ben Wheatley [Kill List, Sightseers)]
* An extract from the French television series Journal de la cinéma featuring an interview with Sterling Hayden
* A look at Kubrick's 1950s output with critic Michel Ciment
* Original theatrical trailers for both films
* Reversible sleeve featuring original and newly commissioned artwork by Reinhard Kleist
* Collector's booklet containing new writing by Peter Krämer [author of volumes on Dr. Strangelove, 2001: A Space Odyssey and A Clockwork Orange], Barry Forshaw and filmmaker Ron Peck, illustrated with original archive stills