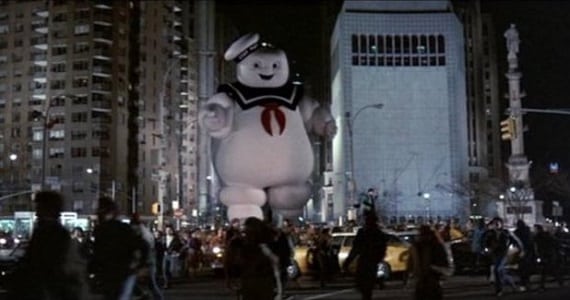 Seriously, is there anyone out there who has not seen Ghostbusters? It is an absolute classic in every sense of the word, and the kind of film you can pop on whatever day, whatever time and you are guaranteed a good time, and some mega cheering up should you need it.
The Ivan Reitman directed film is loved by every film fan I have ever met, and I have never come across anyone who didn't like it.
One of the films biggest and most memorable scenes is the finale, which features a 100 foot tall Marshmallow Man called Mr Stay Puft. He's s sailor, he's in New York, and IF the Ghostbusters can get him laid they shouldn't have any trouble.
But they do, and the jaw-dropping finale see's Mr Stay Puft terrorize New York in a blistering display of special effects like nothing anyone had ever seen for its time. It is the kind of scene that as a kid you end up playing on repeat, right from the "What did you do Ray" bit as Mr Stay Puft magnificently arrives.
An eight minute video, courtesy of CineFix, has been released which shows us an in depth look at the creation of Mr Stay Puft, and how the magical monster was designed and brought to the screen. It makes for a fascinating watch.