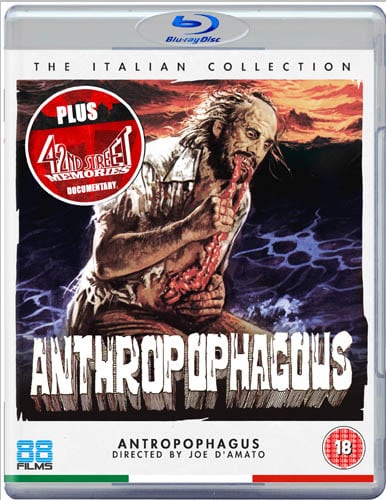 Perhaps the most notorious 'video nasty' of all time, ANTHROPOPHAGOUS is back to deprave and corrupt a fresh wave of horror film viewers thanks to 88 Films Blu-Ray release on 22nd June 2015!
Joe D'Amato cemented himself into genre film history with this slickly directed, and sinisterly suspenseful, creature feature which has some unprepared tourists arriving on a desolate Mediterranean island – only to find themselves stalked by a silent cannibalistic Neanderthal! Featuring gory special effects, that convinced some British moral guardians that ANTHROPOPHAGOUS was a legitimate 'snuff movie', there is little doubting that this timeless terror totem still holds up today. Also boasting a cast of genre legends, such as Tisa Farrow (ZOMBIE FLESH EATERS), Zora Kerova (CANNIBAL FEROX) and George Eastman (RABID DOGS), 88 Films is proud to present ANTHROPOPHAGOUS, fully uncut and uncensored, and re-mastered for its worldwide HD debut!
The Blu-Ray will also include the feature length documentary 42nd STREET MEMORIES: THE RISE AND FALL OF AMERICA'S MOST NOTORIOUS BLOCK!
ANTHROPOPHAGOUS Blu-ray will be available from 88 Films web site only and comes with collectible cover and postcards.