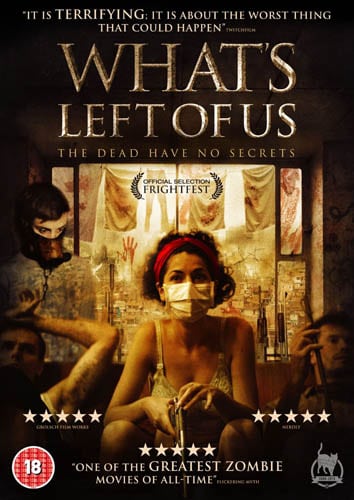 Peccadillo Pictures will be releasing Film4 FrightFest hit What's Left Of Us on DVD and On-Demand on 11th May 2015.
Axel, Jonathan and Ana are the last three, living together in a claustrophobic bunker in a post-apocalyptic hell. Outside is a perilous and unknown landscape filled with the undead and in order to survive, they must scavenge and hunt for food and supplies.
Soon all sorts of human emotions start to form: love, anger, and hatred for one another. But most important of all, they must learn to live together.
To hold on to their sanity, they capture and lock up one of the undead for interrogation and Ana has invented 'the therapy room', a place for them to record their confessions.
What's Left Of Us is a gripping and terrifying imagining of three people holding on to sanity, safety, and all they have left.