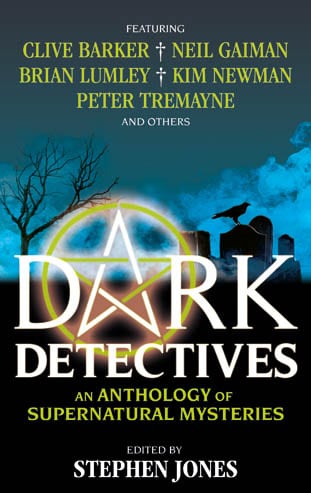 Titan Books will be publishing DARK DETECTIVES: AN ANTHOLOGY OF SUPERNATURAL MYSTERIES on 17th March 2015 in the UK on paperback.
Dark Detectives is a stand-alone collection of eighteen tales of supernatural detective fiction, featuring stories from Neil Gaiman, Clive Barker, Kim Newman, Brian Lumley and Manly Wade Wellman and more. Each tale features a supernatural sleuth whose mission it is to save the world from the forces of darkness.
Stephen Jones is a leading expert on horror and a prolific editor. He is the winner of three World Fantasy Awards, four Horror Writers Association Bram Stoker Awards and three International Horror Guild Awards as well as being a twenty-time recipient of the British Fantasy Award and a Hugo Award nominee.