TORMENTUM – DARK SORROW
Available for PC and Mac on Steam
Published and Developed by OhNoo Studio

Point-and-click dark fantasy adventure game,
TORMENTUM – DARK SORROW
, sees your character, a mysterious cloaked man, imprisoned in a cage alongside a rodent in a second cage, attached to a zeppelin heading towards a creepy castle. Initially locked up, you manage to escape and roam the halls looking for a way out of the nightmarish fortress. Along the way, you meet characters who may help you out in return for a favour as well as puzzles that will need solving and objects that will need finding to proceed to the next objective. Will you be up to the challenge to fight for freedom?
Polish publisher and developer OhNoo Studio have crafted a game of gothic beauty, curiosity and addiction in TORMENTUM – DARK SORROW. Firstly, let's talk about the design. The arty style of the game reminds me of fellow point-and-click puzzler Machinarium due to its intricately detailed, hand-painted backgrounds. TORMENTUM – DARK SORROW thrills with its stunning, nightmarish, surreal Giger-esque artwork which features disturbing torture devices, colourful characters and a post-apocalyptic-cum-cyberpunk environment. Just discovering each new scene is a pleasure of its own without even adding in the gameplay elements.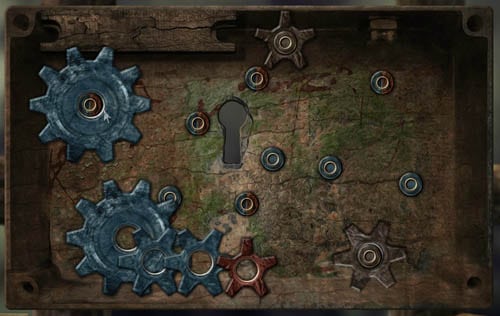 The gameplay of TORMENTUM – DARK SORROW requires the player to find objects and solve puzzles, with the odd moral choice thrown in to spice things up and alter the game's ultimate outcome. The puzzle element of the game is pretty simple to fathom with the solution often nearby or in the adjacent rooms. Even when no hints are found for the puzzles, a bit of patience, logical thinking and numerous attempts soon help you to solve the puzzle. The puzzles include matching opposite pairs together, shifting tiles to make a picture, linking objects together from one end to another and placing objects in the correct sequence, among others. Away from puzzles, the game requires the player to find missing items or to bring certain items to a particular character or spot to unlock doors, find new objects and to generally progress the game. Like the puzzles, these are rather easy to find especially when the clickable objects sparkle.
The story within TORMENTUM – DARK SORROW is pretty addictive thanks to the engaging gameplay and breathtaking artwork. I want nothing more than my character to escape the wretched land he finds himself in but at the same time, I'm curious as to what it all meants and look forward to roaming the halls and discovering its grisly secrets. With each new scene, more hints at what is really going on are uncovered as you start to learn who to trust and who not to. Eager to know what is just round the corner, I can't wait to boot the game up for the next play.
It took me just over 4 hours to complete the game, with OhNoo Studio predicting 4-6 hours gameplay depending on your skill, but what a thrilling 4 hours it is! There's achievements to unlock along the way via Steam, along with collectable Steam trading cards that can be crafted into a badge. With the moral choices in the game affecting the outcome, the game would be great to replay to see the alternative outcomes as well as collecting extra achievements for the alternative choices. Regardless of that though, I'd love to replay it again from the start just to feast my eyes upon the mesmerising hand-painted artwork once again. What makes the game even more impressive is that it was created by a team of three people – yes, three!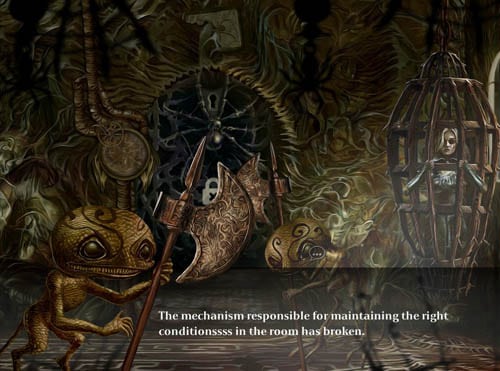 TORMENTUM – DARK SORROW is certainly for the horror and fantasy fans. Its genre-inspired artwork speaks for itself. However, I think that this game would appeal to all fans of point-and-click games who like their puzzles more accessible and solvable rather than frustratingly difficult.
Warped and twisted yet utterly charming and frighteningly beautiful, TORMENTUM – DARK SORROW is an absolutely must-play. You'd be mad to miss this!
Rating: