Wolves (2014)
Directed by: David Hayter
Written by: David Hayter
Starring: Jason Momoa, John Pyper-Ferguson, Lucas Till, Merritt Patterson, Stephen McHattie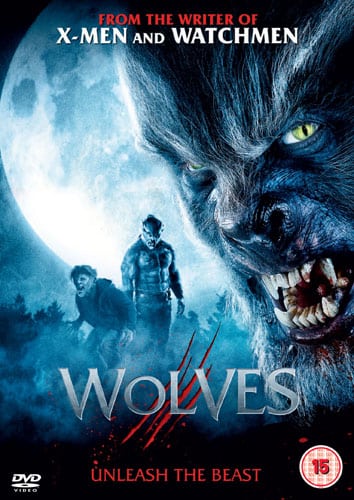 WOLVES (2014)
Written and directed by David Hayter
Experiencing intense and vicious nightmares, Cayden senses that he's not an ordinary teenage boy. In his final year of high school, Cayden has it all – good grades, a girlfriend and playing quarterback in the high school football team. His promising future comes crashing down when he awakens to find his parents brutally murdered and decides to skip town. Attempting to come to terms with who he really his, he's directed to Lupine Ridge, home to pure bred werewolves who might have answers to his questions. His arrival at Lupine Ridge is not welcomed though, with Connor, the alpha pure-blood lycan, determined to find out who the newcomer to the town is and to teach him not to interfere with his town.
Written and directed by X-Men and Watchmen screenwriter, David Hayter, WOLVES is an action-packed, entertaining werewolf drama that explores one young man's coming of age and terms with his werewolf self. His journey to discover his roots and his capabilities is an endearing one as Cayden strives to do good with his life and be kind to others. However, his struggle to control his aggression and transformation into a werewolf leaves him unpredictable and a danger unto himself as well as others around him. Could the folk of Lupine Ridge help him discover his true identity and help him understand just what he is?
Handsome Lucas Till stars as the likable lead Cayden who's taken under the wing of kind farmer John Tollerman (a fantastic Stephen McHattie) and his wife Clara (Janet-Laine Green) upon his arrival at Lupine Ridge. Tollerman is a humble, hard-working member of the community but appears to know more than he's letting on. Whilst working as a farm hand for Tollerman, Cayden catches the eye of local bar owner Angelina (Merritt Patterson), a sexy match for the young man. Conan star Jason Momoa puts in a terrific turn as the hot-tempered, muscular, brooding Connor, the alpha predator of the town who doesn't appreciate Cayden snooping around nor his interest in Angelina.
WOLVES is a strong directorial debut from David Hayter and showcases his range as a filmmaker. The opening narration by Cayden of his experiences up to his realisation that he's not completely human is a great way to give some backstory on his life and establishes the character of Cayden very well. The camera work and editing is pretty slick throughout too and shows enough of the fight scenes to thrill the viewer. I especially enjoyed the close-up scene where Cayden confronts a pair of bikers in a carpark and blood splashes onto the lense. That was both unexpected and a fantastic way to engage the viewer with a more intimate vibe.
The choice to use old school make up effects over CGI in WOLVES was a terrific one with each of the snarling beasts oozing character reminiscent of their human form. Though not particularly scary in a horror sense, the werewolves are still rather intimidating with their super strength and taste for flesh. Put it this way, you'd think twice about staying in Lupine Ridge if you discovered that the vast population were lycans.
With a strong cast, both leading and supporting, WOLVES is a fresh, inspired take on the werewolf genre which lays promising foundations for the future directorial work of David Hayter.
Rating:
The region 2 UK DVD release of WOLVES includes two deleted scenes, gag reel and trailer.