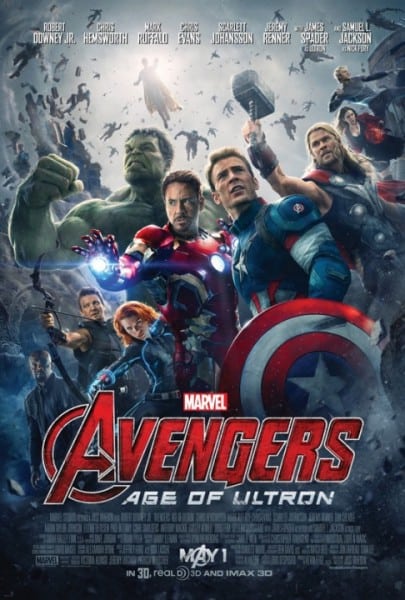 Though it only debuted in UK cinemas last Thursday and doesn't even hit US screens until this Thursday, Cinema Blend tells us Amazon.co.uk has already released some details about the upcoming Avengers: Age Of Ultron Blu-ray and DVD release. Along with the announcement that international audiences can start pre-ordering them online, a small message popped up to reveal that the home releases will feature both an "extended version" of the film and an "alternate ending."
An extended version of the movie comes as no surprise since Joss Whedon has already said that his original cut was considerably longer than what appeared in cinemas [its 141 min running time being already quite hefty], and rumours of this version coming out for home viewing surfaced a week or so ago. Along some shots in the trailers which are missing from the theatrical cut of the film, one hopes that there will be more clarification of some details, especially concerning some material involving Thor, which was a bit confusing. Hopefully the film will also seem less like a lead-in to stuff in later films, a major flaw which certainly hampered its effectiveness for me, though it still just about delivered in terms of exciting entertainment.
The alternative ending though has got fans even more excited. It seems that Marvel went through alternative line-ups for the new Avengers line-up at the end of the film, and some are saying that Captain Marvel may have originally been in it, something substantiated by Marvel president Kevin Feige saying a few weeks ago that she was originally going to be introduced in Avengers: Age Of Ultron.
Meanwhile, The Hollywood Reporter tells us that some cinema owners in Germany are protesting Disney's increased rental fee for the blockbuster. The ever greedy studio has upped the fee from 47.7 to 53 percent of ticket sales, is cutting its advertising spend and is not provide advances for 3D glasses. Said a spokeman for advocacy group I.G.Nord:
"We are worried, particularly about eastern Germany. When prices go up, then we have a serious problem that could force movie theatres to close."
A Disney rep has issued a short, succinct statement:
"We don't discuss the negotiations that we are engaged in with our partners in exhibition".
In total, the film is being kept from 686 screens, though of course this may not sound like many considering the huge box office haul the movie is already achieving!