The Device (2014)
Directed by: Jeremy Berg
Written by: Jeremy Berg, John Portanova
Starring: Angela DiMarco, David S. Hogan, Kate Alden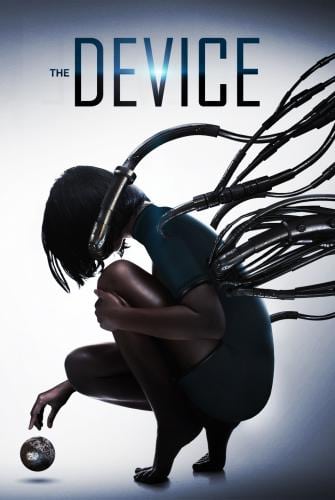 THE DEVICE (2014)
Directed by Jeremy Berg
Screening now at TheHorrorShow.TV
[vimeo]https://vimeo.com/115707840[/vimeo]
A soon to be married couple, Abby and Calvin, spend some time at the family's woodland cabin with Abby's younger sister, Rebecca. Having been abducted and raped as a youngster by her boyfriend, Rebecca has been traumatised ever since and returning to the family's cabin stirs up old emotions that never really went away. Whilst out in the woods one day, Abby finds a sphere on the ground and returns to the cabin with it. Her fiance Calvin is curious by the sphere and begins to experiment with it. With her husband beginning to obsess about the sphere, Abby begins to have weird nightmares of a bedroom intruder but wonders if it could be linked to the mysterious object. When her sister Rebecca reveals that her childhood trauma was not an abduction and rape from her then boyfriend but an extraterrestrial encounter, Abby fears that her nightmares may not be dreams after all and that the sphere is indeed more than it seems.
Indie sci-fi thriller THE DEVICE deals with the effects a mysterious sphere has on a family. During the movie, we see just what the sphere is capable of and the grip it seems to have on the male of the house, Calvin. His curiousity and experiments with the sphere start off rather innocent as he tries to roll it off the edge of the table and is stunned to see that before it reaches the edge, it turns and rolls back towards him. For anyone, that'd be startling but personally, I'd probably give it to someone else not knowing the true power of an object like that. Calvin's fiance Abby feels the same way, but Calvin thinks there may be money to be made from it, especially if it's a military project. As Calvin starts getting more and more obsessed with the sphere, he begins to spend less time with his fiance and even starts to resent having to spend time or hold a conversation with her. It's blatant to see the negative effect the sphere is having on Calvin and when Abby discovers the truth about Rebecca's past and the things she witnessed, she genuinely begins to fear that something not-of-this-world is trying to hurt them.
Angela DiMarco turns out a great performance as Abby. She's the one holding the family together and attempting to mend bridges with her little sister Rebecca, played by Kate Alden. If she hadn't at Rebecca that night, Abby thinks that her boyfriend wouldn't have abducted her. It's clear to see there's pent up emotion yearning to be released and let go, but little does Abby realise that the reserved nature of her sister isn't anything to do with the boyfriend but something much sinister. Meanwhile, Benedict Cumberbatch lookalike David S. Hogan stars as Calvin. His shift from doting, caring fiance into a paranoid agressor is quite scary, causing the viewer to really empathise with Abby's position as someone who's watching their world collapse around them with no-one to help.
Whilst the film takes a different spin than most sci-fi's with the main focus of the film on the psychology and relationships of the characters, rather than the extraterrestrials, THE DEVICE still feels as though it's lacking somewhat. It has some good ideas but they all feel a little under-developed such as the sphere which never really amounts to much. As bleak as it is, there's not enough to create a real menacing scenario though there are a few scenes which are rather haunting such as the nightmares Abby experiences. The main issue, I feel, is that the film lacks charisma and struggles to excite the viewer, resulting in the film dragging along rather than keeping the viewer on the edge of their seat.
A neat idea but not nearly enough gusto.
Rating: