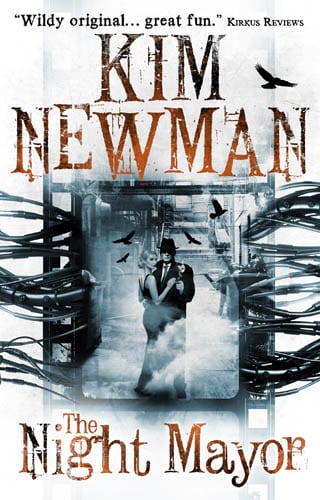 The Night Mayor by Kim Newman is set to be published on 24th April 2015 in paperback format from Titan Books.
The Night Mayor was Kim Newman's debut novel and has been repackaged and republished for a new generation of fans to enjoy. This new edition also includes four short stories set in the same universe.
In the near-future, old-fashioned movies, called "flatties," have given way to computer-enhanced Dreams that directly expose audiences to the fantasies of professional Dreamers. The best-selling Dreams repeat the formulas of older mass media (soap opera, cops and robbers etc.) Only when the criminal genius and hacker Truro Daine creates a film noir Dream scenario capable of taking control of the computer that controls the world is the true power of the system revealed.
From his beginnings writing short stories for magazines, to writing numerous acclaimed supernatural and horror novels – including the co-authoring of books with Neil Gaiman – Kim Newman has long impressed audiences with his creative brilliance. Forever reasserting himself in our cultural consciousness as a reviewer, guest, and creator of shows on BBC Radios 2, 3 and 4, as well as channels BBC 1, 2 and 4, Kim is also a well-known and respected film critic. He writes regularly for Empire and contributes to The Guardian, The Times, Time Out, amongst others. He has won the Bram Stoker Award, the International Horror Guild Award, British Fantasy and British Science Fiction awards, and has been nominated for the Hugo and World Fantasy Awards. A literary luminary, Kim has written numerous bestsellers, including the recognised classic Anno Dracula series, the Diogenes Club series, Jago, The Quorum, Life's Lottery, Professor Moriarty: The Hound of the D'Urbevilles, as well as non-fiction titles on the history of cinema.