Keanu Reeves is one of those actors you can't help but like and enjoy watching on-screen. His dedication to his movies, particularly when training for combat scenes, is always admirable. Plus, in his spare time he's a keen motorcyclist, riding Norton motorcycles and creating his own machines with Gard Hollinger under the banner of Arch Motorcycle Company. As a motorbiker myself, he's got my seal of approval! 🙂
To celebrate the release of his latest film, action thriller John Wick, in UK cinemas now, and to celebrate the man behind the character, here's my Top 5 Keanu Reeves Films.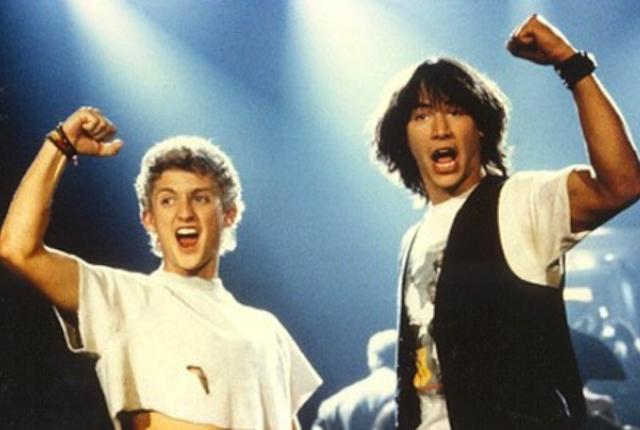 Bill & Ted's Excellent Adventure
As a wee youngster, I first discovered Keanu Reeves as slacker and wannabe Wyld Stallyns rock god, Ted 'Theodore' Logan in Bill and Ted's Excellent Adventure. Ted and best mate Bill S. Preston Esq are seriously failing their grades and desperately need to do well in an upcoming history assignment otherwise they'll flunk out of school. Help comes in the form of Rufus who, with the help of a time-travelling telephone box, whisks them off to the past where the duo meet all the iconic people of history and bring them back to the 20th century where they run amok in the modern world. Entertaining and incredibly fun, Bill and Ted's Excellent Adventure is a family favourite.
Favourite Keanu quote: "Oh, you beautiful babes from England, for whom we have travelled through time… will you go to the prom with us in San Dimas? We will have a most triumphant time!"
Point Break
Starring as some quarterback punk who's young, dumb and full of cum, Keanu Reeves is Johnny Utah, an FBI agent working alongside meatball sandwich fan Gary Busey's Pappas in Kathryn Bigelow's Point Break. Keanu works undercover to find a bunch of bankrobbers and befriends a surfing group led by adrenaline junkie Bodhi (Patrick Swayze). Highly quotable and loads of fun, Point Break is one of the films of the 90's! Love it!
Favourite Keanu quote: "Guy's waxing his moustache at the beach. Gets sand in it. Takes it off with his shoe…"
Bram Stoker's Dracula
Okay, maybe this isn't Keanu Reeves' finest moment but his performance is certainly memorable as Jonathan Harker, a lawyer who travels to Romania to meet with his client Count Dracula who's acquired some property in England. As Jonathan spends time in the Count's company, he begins to realise that all is not what it seems. Keanu's ropey English accent didn't do him any favours in Bram Stoker's Dracula but it didn't do him any harm either. It also didn't stop his character from getting Monica Bellucci and others under the covers whilst he's trapped in the castle of the Count. All in all, not a totally bad visit, I would say!
Favourite Keanu quote: "Bloody wolves chasing me through some blue inferno!"
The Matrix
Keanu Reeves stars as Thomas Anderson, a computer hacker who goes by the alias of Neo on the internet. Feeling deep down that he doesn't belong and that there's something else out there, he's tracked down by a group led by the mysterious Morpheus who proclaims that Neo is The One, their savour. If he wants to find out how deep the rabbit hole goes, Neo will have to take the red pill but will he be able to face the harsh reality that has been shielded from him all his life? Featuring lots of gravity defying ass-kickery between Neo, his new chums and computer program Agents, as well as some gritty scenes on board the Nebuchadnezzar hovercraft in the underground sewer tunnels, The Matrix set the bar for modern sci-fi films and also popularised the Bullet Time slow-mo camera technique.
Favourite Keanu quote: "How about, I give you the finger… and you give me my phone call"
John Wick
Keanu Reeves stars as John Wick, a former assassin who is forced out of retirement by Russian mobsters who break into his house, beat him, steal his car and destroy the only good thing he has left in his life – a Beagle puppy named Daisy, a final gift from his late wife. We soon find out that John Wick is not a man to be messed with, especially as he's known as the man you hire to kill the Boogeyman! Action scenes aplenty with lethal gun fights, intense ju-jitsu combat and adrenaline-fuelled car chases make John Wick one ultimate badass!
After the likes of Dredd, which was an already established character, we desperately needed a new action persona and I believe John Wick is that man. With rumours of a sequel, this might not be the one and only time we see John on screen either. Huzzah!
Favourite Keanu quote: "You can either hand over your son or you can die screaming next to him! "